Do we really need another remake? Do we really need a remake of the musical Annie?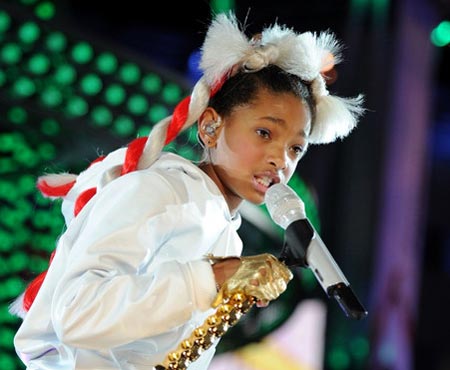 Well, if you ask Will Smith – his answer is definitely yes.
Smith had recently developed The Karate Kid for his son, Jaden, and now, it's his daughter Willow.
She will play the title role in a remake of Annie.
And, that's not all. Jay-Z is in talks to collaborate on the music, which is not actually a surprise, since Willow Smith is currently an artist on Jay-Z's Roc Nation imprint, which is a partnership between the chart-topping rapper and Live Nation, the largest live entertainment company in the world.
Young lady has already had a hit single with the song "Whip My Hair," which peaked at #11 on Billboard's Hot 100 Chart. Cute.
The project is in the very early stages of development at Will Smith's Overbrook Entertainment, and according to the latest reports, it is not clear if there will be any original songs, or if this is a contemporary version of Annie.
With Jay-Z on board – we can expect… well, think about it!
We're sure you all remember this story very well, but let's remind:
"During the Great Depression in New York City, a plucky red-haired scrapper named Annie is the voice of hope for her fellow orphans who live under the supervision of drunken floozy Miss Hannigan.
Annie's spirit is fueled by the belief that her real parents dropped her off at the orphanage with a half of a locket, promising to return for her with the other half. One day, the dingy orphanage is visited by the sophisticated Grace Farrell, personal secretary to conservative politician Oliver Warbucks.
In order to improve his image, Grace brings Annie to the Warbucks estate for a weeklong visit. Annie quickly wins the hearts of servants and politicians alike, eventually even bringing her song of hope, "Tomorrow," to President Roosevelt in Washington.
Warbucks and Grace even go so far as to perform a public search for Annie's parents, creating an opportunity for Miss Hannigan, Rooster, and Lily to scam their way to the reward money."
You're Never Fully Dressed Without A Smile, Annie (1982)
[youtube]http://www.youtube.com/watch?v=ry79LzkkDb4&feature[/youtube]
Tomorrow,  Annie (1982)
[youtube]http://www.youtube.com/watch?v=Yop62wQH498&feature[/youtube]