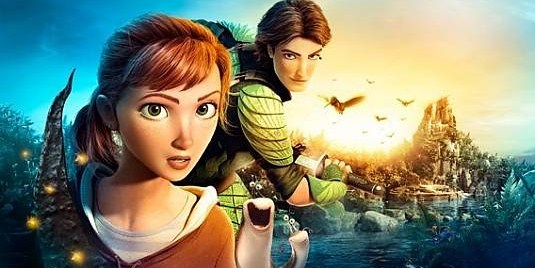 Time to update our Epic gallery with 20 completely new posters! As you're about to see, the upcoming fantasy-adventure movie looks awesome and today we're here to give you a much better look at the leading (voice) cast and their characters – Mary Katherine, Nod, Ronin, Mandrake, Queen Tara and the rest of the forest company! Chris Wedge directed this great-looking 3D CG action-adventure comedy that reveals a hidden world unlike any other. It revolves around a young girl named Mary Katherine who lives in a cabin in the woods with her father and dog.
Epic voice-cast includes Colin Farrell as Ronin, Josh Hutcherson as Nod, Jason Sudeikis as Professor Bomba, Amanda Seyfried as Bomba's daughter Mary Katherine, Christoph Waltz as Mandrake, Aziz Ansari as Mub, Chris O'Dowd as Grub, Pitbull as Bufo, Steven Tyler as Nim Galuu and Beyoncé Knowles as Queen Tara.
Epic is set to hit theaters on May 24th, 2013, and in case you already forgot the official synopsis for the movie, here's a little reminder:
The movie tells the story of an ongoing battle deep in the forest between the forces of good and the forces of evil. When a teen age girl finds herself magically transported into this secret universe, she must band together with a rag-tag team of fun and whimsical characters in order to save their world…and ours.
Click on all these posters to take a better look at this lovely team & stay tuned for more!