Movie Photos
20 New Images, Poster & International Trailer For JUST LIKE A WOMAN, Starring Sienna Miller!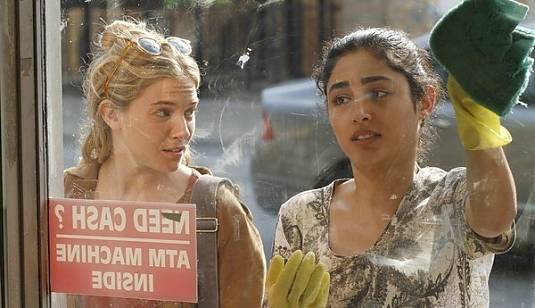 If you ask me – Rachid Bouchareb's latest movie Just Like a Woman looks pretty good (you can't blame a girl for loving a belly dance, you know…) And that's exactly what you're going to see in the rest of this report, because we have 20 new images, a new poster and some kind of an international teaser trailer for the whole thing to share with you today! Click continue & enjoy!
Rachid Bouchareb directed the movie from a script he co-wrote with Marion Doussot and Joëlle Touma, which follows an American housewife and a North African woman who travel from Chicago to Santa Fe to participate in a bellydance competition.
You'll find more details about the movie below, and I will just add that Just Like a Woman cast includes Sienna Miller, Golshifteh Farahani, Bahar Soomekh, Tim Guinee and Roschdy Zem. The movie is set to open this month in Italy, so quite logically – we have this short trailer to share with you: [jwplayer mediaid="140465″]
Mona, 26, an immigrant from North Africa, runs her in-laws' mini market in Chicago. She's married to Mourad, a man who can't stand up to his authoritarian mother. Mona is harassed by her mother-in-law because after five years of marriage, she hasn't be able to get pregnant, something that's considered a shame and a taboo in her culture. Marilyn, 29, is a receptionist at a computer repair company. Her marriage with Harvey is on the ropes. The only thing in her life that makes her happy is her belly dance class, a passion shared by Mona. Dancing at family gatherings lifts her spirits up and makes her forget the misery of her daily life. Marilyn shops at Mona's mini-market. They've become friends. One morning, Mona's mother-in-law is found dead in her bed. Mona realizes that she mixed the wrong dose while preparing her medicine. Realizing that she might be accused of murder, Mona runs away and flees Chicago by bus. Marilyn loses her job because of the recession. When she gets home, she finds out that her husband is cheating on her. With nothing left to lose, Mona decides to go to Santa Fe to enter a contest hoping to join a famous belly dance company. Mona and Marilyn run into each other on a rest area on the side of a highway. They decide to continue the trip together. They cross the USA, pitching their tent in trailer parks and in the middle of the desert. They earn some cash belly-dancing together in restaurants and bars. Back in Chicago, Mona is considered a fugitive; she's wanted for the murder of her mother-in-law. Harvey asks the police to look for Marilyn who disappeared without leaving a trace. Will Marilyn succeed in joining the belly dance company? How long will Mona be able to keep her secret from Marilyn?
Click on the images to take a better look & let us know what you think!