Movie Posters
3 New Posters For HBO's THE GIRL, Starring Sienna Miller & Toby Jones!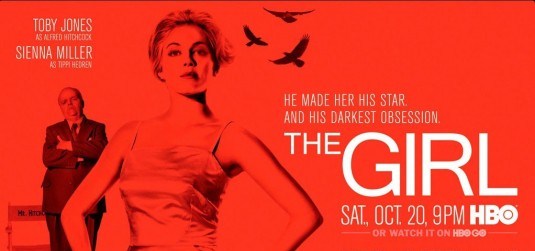 He made her his star and his darkest obssesion.
Simple as that! We have three new posters for HBO's upcoming movie simply titled
The Girl
, which is set to air this month! So, consider this as a little reminder and don't forget to check it out on October 20th, 2012. The movie will give us a darker look at
Alfred Hitchcock
's relationship with actress
Tippi Hedren
, and as you already know –
Toby Jones
and
Sienna Miller
will lead us through that weird obssesion! In case you're not so familiar with
The Girl
plot, I will remind you that everything starts in 1962, when the legendary director chose an unknown fashion model to star in his most ambitious film –
The Birds
. But as he sculpted
Tippi Hedren
into the perfect Hitchcock blonde of his imagination, he became obsessed with the impossible dream of winning the real woman's love. His failure arguably destroyed both of their careers. Written by
Gwyneth Hughes
, this movie is directed by
Julian Jarrold
and, beside Jones and Miller it also stars
Imelda Staunton
,
Penelope Wilton
,
Sean Cameron Michael
and
Candice D'Arcy
. Click on the posters for a better look!