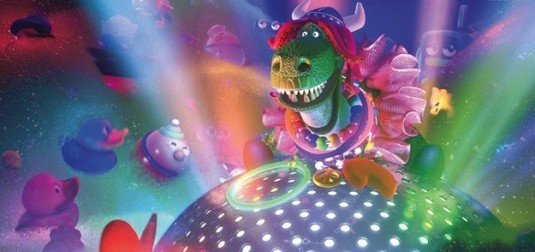 Watch Pixar's full short Partysaurus Rex right here, at FilmoFilia! Don't worry, it's available in all countries! And a little message for other movie blogs out there – if you have something great (and this shorty is definitely awesome!) to share with people, share it with the whole world for God's sake! This video is not available in your country message is so f*cking annoying! In case you're not so familiar with the whole thing, I will first inform you that we're talking about Pixar's wonderfull animated short film whch comes from director Mark Walsh. As usual with Toy Story Toons, we have story which is based on the characters from the Toy Story feauture films. This short movie played in theaters with Finding Nemo 3D, and on Monday it also premiered on Disney Channel.
When Rex finds himself left behind in the bathroom, he puts his limbs to use by getting a bath going for a bunch of new toy friends. They begin to have a party until the tub is too full and Rex constantly tries to stop the party, which made a mess. At the end, Rex meets a Jamaican toy and creates another party, and he then joins the other inflatable toys.
At the end, let us also mention that Tom Hanks, Tim Allen, Wallace Shawn, Corey Burton, Emily Hahn, Don Rickles, John Ratzenberger, Joan Cusack and other famous names gave their voices to these cuties. Check out the movie and let us know what you think!