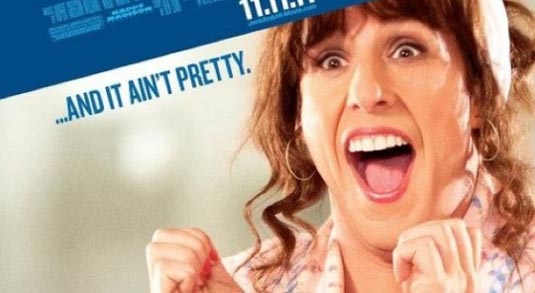 The most important thing you should know about the Razzies aka the awards for the worst movie of the year, is that the lucky winners will be announced on April Fool's Day.
And then, I'm sure you'll be happy to hear that Adam Sandler will probably win something, simply because the poor guy leads with 11 nominations!
But don't worry, Transformers is right behind him with nine nominations while Breaking Dawn earned eight.
Anyway, here's the full list of nominations:
Worst Picture
BUCKY LARSON: BORN TO BE A STAR
JACK & JILL
NEW YEAR'S EVE
TRANSFORMERS: DARK OF THE MOON
TWILIGHT SAGA: BREAKING DAWN PART I
Worst Actor
Russell Brand in ARTHUR
Nicolas Cage in DRIVE ANGRY 3-D, SEASON OF THE WITCH and TRESPASS
Taylor Lautner in ABDUCTION and TWILIGHT S.B.D. PART I
Adam Sandler in JACK & JILL and JUST GO WITH IT
Nick Swardson in BUCKY LARSON: BORN TO BE A STAR

Worst Actress
Martin Lawrence (As "Momma") in BIG MOMMAS: LIKE FATHER, LIKE SON
Sarah Palin (As "Herself") in SARAH PALIN: THE UNDEFEATED
Sarah Jessica Parker in I DON'T KNOW HOW SHE DOES IT and NEW YEAR'S EVE
Adam Sandler (As "Jill") in JACK & JILL
Kristen Stewart in TWILIGHT SAGA: BREAKING DAWN PART I

Worst Supporting Actor
Patrick Dempsey in TRANSFORMERS: DARK OF THE MOON
James Franco in YOUR HIGHNESS
Ken Jeong in BIG MOMMA'S #3, HANGOVER PART 2, TRANSFORMERS #3 and ZOOKEEPER
Al Pacino (As "Al Pacino") in JACK & JILL
Nick Swardson in JACK & JILL and JUST GO WITH IT

Worst Screen Ensemble
The Entire Cast of BUCKY LARSON: BORN TO BE A STAR
The Entire Cast of JACK & JILL
The Entire Cast of NEW YEAR'S EVE
The Entire Cast of TRANSFORMERS: DARK OF THE MOON
The Entire Cast of TWILIGHT SAGA: BREAKING DAWN PART I

Worst Director
Michael Bay – TRANSFORMERS: DARK OF THE MOON
Tom Brady – BUCKY LARSON: BORN TO BE A STAR
Bill Condon – TWILIGHT SAGA: BREAKING DAWN PART I
Dennis Dugan – JACK & JILL and JUST GO WITH IT
Garry Marshall – NEW YEAR'S EVE

Worst Prequel, Remake, Rip-Off or Sequel

ARTHUR
BUCKY LARSON: BORN TO BE A STAR
(Rip-Off of BOOGIE NIGHTS and A STAR IS BORN)
THE HANGOVER PART 2
(Both a Sequel AND a Remake!)
JACK & JILL
(Remake/Rip-Off of Ed Woods' GLEN OR GLENDA)
TWILIGHT SAGA: BREAKING DAWN PART I

Worst Screen Couple

Nicolas Cage & Anyone Sharing the Screen with Him in Any of His Three 2011 Movies
Shia LeBeouf & The Underwear Model (aka Rosie Huntington-Whiteley) TRANNIES #3
Adam Sandler & EITHER Jennifer Aniston OR Brooklyn Decker / JUST GO WITH IT
Adam Sandler and EITHER Katie Holmes, Al Pacino OR Adam Sandler / JACK & JILL
Kristen Stewart & EITHER Taylor Lautner OR Robert Pattinson / TWILIGHT: BREAKING DAWN PART I
Worst Screenplay
BUCKY LARSON: BORN TO BE A STAR
Written by Adam Sandler, Allen Covert and Nick Swardson
JACK & JILL
Screenplay by Steve Koren & Adam Sandler, Story by Ben Zook
NEW YEAR'S EVE
Written by Katherine Fugate
TRANSFORMERS: DARK OF THE MOON
Written by Ehren Kruger
TWILIGHT SAGA: BREAKING DAWN PART I
Screenplay by Melissa Rosenberg