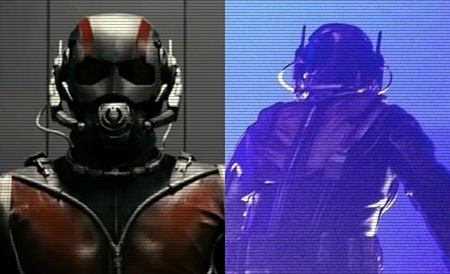 The The World's End director Edgar Wright posted an image to his Twitter account on Wednesday that shows off a behind-the-scenes look at his upcoming Marvel's Phase Three film Ant-Man. The photo that offers more questions than answers depicts a stunt man in full Ant-Man costume slightly crouching in a bright blue screened room with a large camera rig hovering over him. Wright wrote:
Now I'm back in LA, it's high time to finish a little something I've been working on…
Marvel firstly unveiled the test reel for the movie at the San Diego Comic-Con in 2012 where Ant-Man is looking out of an air vent and this image is seemingly from when he was working on the clip shown at Comic-Con. The Ant-Man superhero character is a keystone to the Marvel Universe, and introducing him to the continuity is going to allow them to do all sorts of things and it will open up a number of classic Avengers storylines. However, Ant-Man is now officially in pre-production, to be released July 31st, 2015 to launch the studio's Phase Three. Here's to hoping we get a casting announcement soon. Wright is directing from a screenplay he co-wrote with Joe Cornish (Attack the Block). No story details have been confirmed, but the director revealed in February that this will take a different approach to Dr. Hank Pym's origin story so it won't connect to Avengers 2 villain Ultron in the classic comic sense. We'll just have to wait and see. Click the image below for a larger version.