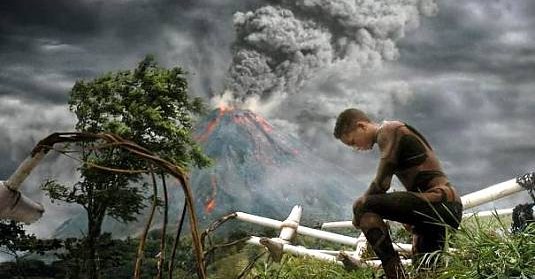 First clip from After Earth has arrived! Two days ago you had a chance to check out three new TV spots for the movie (which opens this month!) and now we finally have a little chit-chat between Will and his son Jaden Smith, who are (obviously) more than ready to start their dangerous mission. Or, something like that… So, you already know the story: cataclysmic events forced humanity's escape from Earth, and now they re-established society on the planet Nova Prime. But, a crash landing leaves teenager Kitai, played by Jaden Smith and his father Cypher aka Will Smith stranded on Earth. Spooky… [jwplayer mediaid="151045″]
With Cypher critically injured, Kitai must embark on a perilous journey to signal for help, facing uncharted terrain, evolved animal species that now rule the planet, and an unstoppable alien creature that escaped during the crash. Father and son must learn to work together and trust one another if they want any chance of returning home.
Directed by M. Night Shyamalan and also starring Isabelle Fuhrman, Kristofer Hivju, Gabriel Caste and Zoe Kravitz, After Earth is set to hit theaters on May 31st, 2013.