Movie Posters
AMONG FRIENDS: Teaser Trailer & Poster (Plus DVD/VOD Release Date!)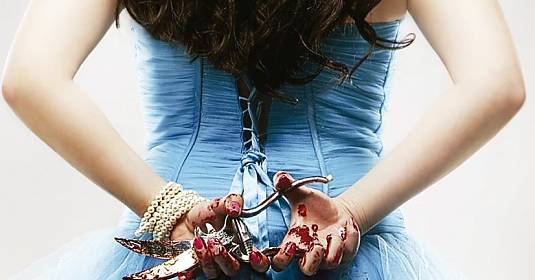 Lionsgate Home Entertainment announced it will release Danielle Harris' directorial debut Among Friends on DVD this August! In case you're not so familiar with this horror-comedy, now is your perfect chance to check out the first teaser trailer and one pretty cool poster for the whole thing. Head inside to find more details!
Danielle Harris directed the pic from a script written by Alyssa Lobit, which revolves around a group of friends who get together for a murder mystery party, but (as usual) things take a dark turn when one hijacks the evening and is out for blood.
Or, if you prefer the official synopsis:
Good times take a dark turn when longtime friends get together for an '80s-themed murder mystery party that is soon hijacked by someone from their past. The dinner guests will have to face their lies and secret betrayals as they discover the terrifying lengths to which their host will go to expose the truth.
Starring Aj Bowen, Jennifer Blanc, Alyssa Lobit, Dana Daurey and Chris Meyer, Among Friends hits DVD and VOD August 27th, 2013.
Click on the poster to enlarge & let us know what you think!