Movie Posters
Check Out: 4 Great Banners For R.I.P.D. With Jeff Bridges & Ryan Reynolds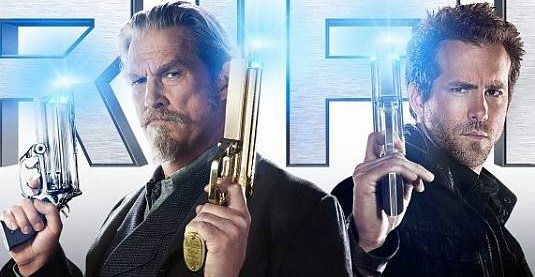 Looking for a new desktop wallpaper? How about Jeff Bridges, Ryan Reynolds and…golden guns? We have four great banners from their upcoming R.I.P.D. movie (in theaters next month), and as you're about to see – The Rest In Peace Department never looked this good (read: these banners are much better than previously revealed posters). Take a look!
My job is to remind you that Robert Schwentke's supernatural thriller opens on July 19th, 2013, and beside the above mentioned duo also stars Kevin Bacon, Mary-Louise Parker, Stephanie Szostak, Robert Knepper and Marisa Miller. The pic revolves around a detective Nick Cruz, murdered in action, and taken to join the undead police division. There, he's assigned to be the partner of Roy Pulsipher, a veteran officer of The Rest In Peace Department.
That's exactly when the fun starts, 'cause in case you forgot – R.I.P.D. is a department of dead police force dedicated to protect and serve the living from arrogant, malevolent, bloodthirsty evil spirits who refuse to move into the afterlife. As usual – click on all these images to enlarge, and in case you've missed our previous reports, here's the first trailer and TV spot for the movie as well as some set photos. Stay tuned for more updates!