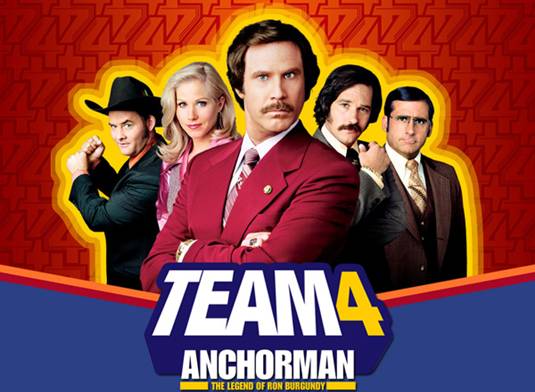 Finally some good news for fans of Mr.Ron Burgundy: one of the best comedies of the past 25 years,
Anchorman 2
is back on track! Paramount has agreed terms with
Will Ferrell
and
Adam McKay
, the news was confirmed by Ferrell himself. Ferrell who previously dismissed the idea of a sequel, said to the audience of the Conan O'Brien show:
I actually have an announcement. I want to announce this here to everyone in the Americas. To our friends in Spain, Turkey and the UK, including England, that as of 0900 mountain time, Paramount Pictures and myself, Ronald Joseph Erin Burgundy, have come to terms on a sequel to Anchorman. There will be a sequel to Anchorman.
Furthermore, McKay will reportedly return as director,
Judd Apatow
will once again serve as producer and both Paul 'Brian Fantana' Rudd and Steve 'Brick Tamland' Carell will reprise their roles. Are you excited for the return of favorite sexist jazz flute enthusiast? Do you also hope David Koechner, Christina Applegate and Fred Willard all come back for the follow-up?
Oh Baxter, you are my little gentleman…
[youtube]http://www.youtube.com/watch?v=MrNA7RjU91I[/youtube]