Movie News
Arnold Schwarzenegger Will Reprise the Role of Conan in THE LEGEND OF CONAN Reboot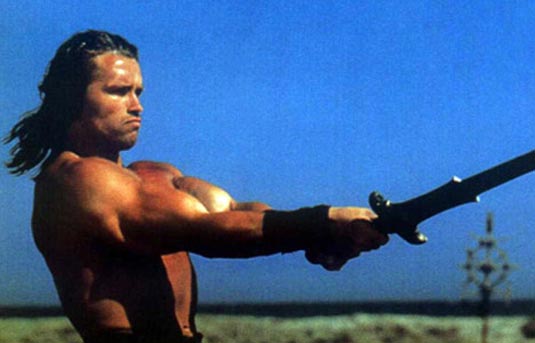 Wow, I'm still a bit positively shaken with this next piece of news, and i'm sure there will be lots of divided opinions on it. What am I talking about, you might ask? I've just found out that one of the 'action granpas' will reprise his role in another reboot I am already looking forward to – The Legend of Conan. And this came soon after the pics of him in Ten that we supllied a minutes earlier. The reboot comes from Universal, which has worldwide rights on the film. The studio released the original film, Conan the Barbarian in 1982 with Arnold Schwarzenegger as the Robert E. Howard's titular barbarian, with the beautiful music score by Basil Poleudoris and of course, memorable cast and 'what's the best thing in life' response and other quotes, heheh.
The film got a bit of a set-back with the 2011 reboot with Jason Momoa (too bad in the end, I was really cheering for that one), but now, according to Deadline, Schwarzee will be reunited with Universal under the 'supervision' of Fredrik Malmberg as a producer, while Chris Morgan will possibly write the script – if he finishes The Fast and the Furious 7 in time, that is. In any case, the studio wants it done and released by the summer of 2014. Considering the storyline, this one will skip over Conan the Destroyer sequel with Grace Jones and the 2011 reboot and it will continue where the first film left off. As Malmberg said,
"The original ended with Arnold on the throne as a seasoned warrior, and this is the take of the film we will make. It's that Nordic Viking mythic guy who has played the role of king, warrior, soldier and mercenary, and who has bedded more women than anyone, nearing the last cycle of his life. He knows he'll be going to Valhalla, and wants to go out with a good battle."
As for Morgan, he claims that
"After the original seminal movie, all that came after looked silly to me. Robert E. Howard's mythology and some great philosophy from Nietzsche to Atilla the Hun was layered in the original film. People say, he didn't speak for the first 20 minutes of the film, but that was calculated in depicting this man who takes control of life with his own hand. This movie picks up Conan where Arnold is now in his life, and we will be able to use the fact that he has aged in this story. I love the property of Conan so much that I wouldn't touch it unless we came up with something worthy. We think this is a worthy successor to the original film. Think of this as Conan's Unforgiven."
He added:
"I loved the choices they made in that film. You start with the wholesale slaughter and death of Conan's village at the hand of the warlord played by James Earl Jones, and you see young Conan chained to a wheel as he becomes stronger. Then he's a pit fighter, and later basically a stud bull before he meets the first kind person of his life, who lets him go. All of that horrific stuff happened for a reason, and then an act of kindness sends him on his journey. Will that level of violence be there? Absolutely, but only if it serves a character who lives by that barbarian law of the wild, who is capable of extreme violence and rage, but who has created his own code and operates from within it. By the end of that film, Conan became a certain character, and this film picks him up there, as he faces different challenges that include dealing with age."
And the man himself said,
"I always loved the Conan character and I'm honored to be asked to step into the role once again. I can't wait to work with Universal and the great team of Fredrik Malmberg and Chris Morgan to develop the next step of this truly epic story."
Whatever you do with the film, please just let me hear Schwarzee say "To crush your enemies, see them driven before you and to hear the lamentation of their women!" one more time… he might do it with a different accent this time!