Movie News
Astrid Berges-Frisbey As Mermaid in Pirates of the Caribbean 4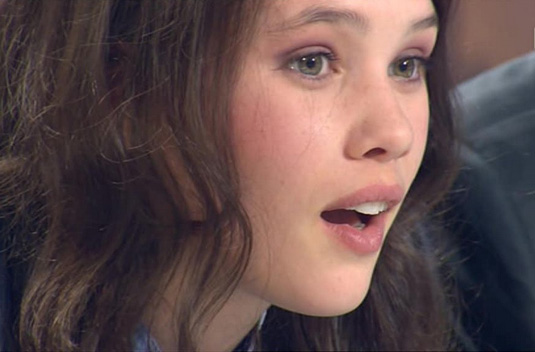 Astrid Berges-Frisbey will be playing a beautiful mermaid that Captain Jack Sparrow encounters on his travels. Yes, we're talking about Pirates of the Caribbean: On Strangers Tides, and this name maybe doesn't sound familiar to you guys, but she's quite popular in France (and as you have a chance to see, very beautiful young lady).
We already wrote that Sam Claflin will star in Pirates 4 but the news is he will play the character Philip, a youthful missionary but we don't know what Philip's role actually is.
Ok, some of us are still dissapointed with that information about Bloom and Knightley, but we guess that show must go on…
So what do we know about this project by now? The fourth film will be based on Tim Powers' pirate novel On Stranger Tides which was optioned by Disney years ago.
And this is how the official plot of the novel looks like: "Puppeteer John Chandagnac, bound for Jamaica to recover stolen money from his uncle, becomes Jack Shandy after pirates attack his ship and force him to join their crew. Shandy's struggle to accept his new life grounds the story for readers, even as Blackbeard and vodun magicians whisk everyone away to dreamlike lands where the Fountain of Youth itself awaits. The chaotic sea battles sing, though at times key events happen so quickly that they get lost in the shuffle as Jack tries to comprehend where he's going and what's at stake."
The movie's co-screenwriter Terry Rossio told that Pirates of the Caribbean: On Strangers Tides will be inspired by Tim Powers' book, so it's not necessary going to be a complete adaptation of the book.
We dont have any doubt that this is going to be interesting thing to watch on a big screen, since we know that Terry Rossio and Ted Elliot wrote the screenplay, and that it will film entirely on location in Hawaii, Great Britain and Los Angeles. Is that exotic, or what?
And, as we said, some of the cast team is no longer included in the whole project, but we have some new actors aboard, like Astrid Berges-Frisbey (best known from French titles like La Fille du Puisatier, Bruc, and Extase), who will join a cast that already includes Johnny Depp, Penelope Cruz, Ian McShane and Geoffrey Rush.
Rob Marshall will be giving up musicals to direct this installment that will hit theaters on May 20th, 2011.
We hope you're satisfied with this casting news guys! At least we have fresh and new mermaid to watch, so, it could be fun. Until some new informations about this one  arrive, make sure you stay tuned!