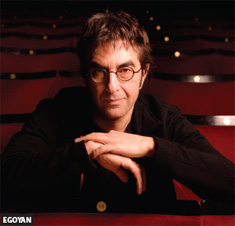 Atom Egoyan's Adoration, accepted for this year's Cannes Film Festival, is a return to the more intimate, lower-budget kind of films he made in the past.
It marks a scaling back from his 2005 effort, 'Where the Truth Lies', because it's a very different kind of story, Egoyan told CBC Radio's Q cultural affairs show.
"Where the Truth Lies is a lavish production that needed a much bigger budget to tell that particular story and it's about an American celebrity. This is about a Canadian high school in Toronto and it's very much set in locations people in this city will recognize," Egoyan said in an interview from Toronto.
The Canadian director, whose Cannes track record includes films such as 'The Sweet Hereafter', 'Exotica' and 'Ararat', was thrilled Wednesday after hearing 'Adoration' had been accepted.
"Its always an honour. It's a really tough list to make," he said.
"It's an important step for me because it's an important film for me. It's a film that can only be made in this country right now. Unlike other movies which are funded in a byzantine, strange way, it's very much part of this particular system. It's a film that is really taking a number of risks and I'm really proud of it."
The film was sparked by a true story Egoyan heard years ago, about a man who talks his pregnant girlfirend onto an El Al flight and a bomb is found in her handbag.
Egoyan says the story of the couple initially fascinated him.
"What sort of mind would be able to actually talk a woman who was pregnant with their child into getting onto that flight?" he said.
Egoyan set the story in the tech-savvy world occupied by modern teenagers, which he says he discovered in part by interacting with teenagers through Reel Canada.
Reel Canada is a program that gets Canadian films into high schools, so students can be exposed to Canadian stories on film instead of the steady diet of U.S. film that is widely available.
Egoyan said he found it "mind-blowing" how fluent students are at expressing their ideas through technology.
Through vehicles such as YouTube, they are "very aware of what they have to do to command attention," he said. "It's a different world and I wanted to set this drama in that world."
Cameron Bailey, co-director of the Toronto International Film Festival, said Adoration is a more personal kind of film.
"This is the story of a teenager using the internet to construct a false identity. It has scenes that also touch on terrorism and the fantasies that teenagers can often indulge in and the dangers that can lead to," he said in an interview from New York.
Egoyan's connection with Cannes stretches back to 1989, when his Speaking Parts was screened at Director's Fortnight. He also has served on the Cannes jury.
Bailey said Egoyan's long connection with Cannes has stood him in good stead.
"Adam certainly is one of the favourite sons at Cannes. He's been there many times. He's been on the jury, and he has been, I think, announced by the Cannes Film Festival as one of the world's leading directors," Bailey said.
"That's the great thing about this festival. They develop relationships with filmmakers over time and when you're in, you're in."