Movie News
Avatar Sees 45% Increase in Ticket Sales on Fandango Following Oscar Nominations
Avatar
's nine Academy Award® nominations may have created an increased demand for tickets on Fandango, the nation's leading moviegoer destination. "Avatar", already the site's top ticket-seller in company history, saw daily sales increase by 45% shortly after the Oscar ® nominations were announced this morning. Moviegoers appear to be pleased with the concept of the Academy®'s new and expanded Best Picture category, which recognized such popular hits as "Avatar", "The Blind Side", "Up" and "District 9", among others. In an online poll on Fandango, 83% of moviegoers say they like the fact that the category now includes 10 nominees. In a separate survey posted on Fandango today, fans picked the movies they would have liked to have seen nominated in this year's expanded category. Among today's Best Picture snubs, the contenders that moviegoers missed the most (as of February 2 at 3:00 p.m. PT) were:
"Invictus" (29%)
"(500) Days of Summer" (17%)
"Star Trek" (14%)
"The Hangover" (9%)
"The Road" (6%)
Moviegoers can now cast their own vote for "2009's Movie of the Year", on Fandango. The winning film will receive the
Fandango Fan Choice Award
at
ShoWest
, the world's largest theater convention, on March 18.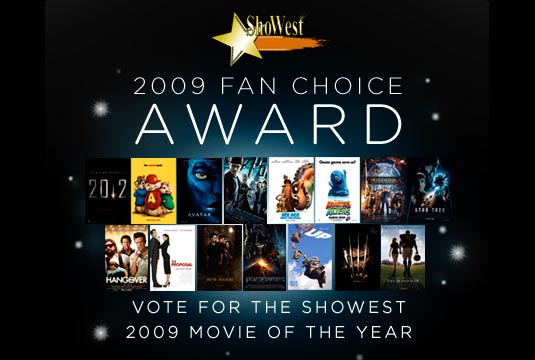 Voters can also participate in a sweepstakes for a chance to attend the awards ceremony live in Las Vegas on a free four-day/three-night getaway. To vote for the "2009 Movie of the Year", and enter the sweepstakes, visit
http://awardswatch.fandango.com/2010/ballotbox/fanchoiceaward.php
. Voting ends on March 9, 2010.