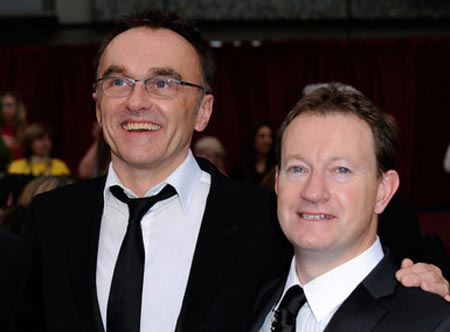 Simon Beaufoy
,
127 Hours
and
Slumdog Millionaire
writer, is currently writing on an adaptation of a book by
Toby Barlow
titled
Sharp Teeth
. But what's also interesting about this project, is the fact that Beaufoy is hoping that
Danny Boyle
will jump onboard, too. The whole thing revolves around werewolves in gangland Los Angeles, and for the rest of the details, check out the rest of this report. In an interview with BBC Beaufoy revealed: "It's an adaptation of a book by a writer called Toby Barlow and it's a very extraordinary mix of gangland Los Angeles, really, really rough – a lot of shootings – and the difference with this particular piece of work is that these gangs can shape-shift at will into packs of dogs." Boyle is definitely an awesome choice for director's seat, but is he even interested in the story like this? Beaufoy simply explained that by saying: "If I write it well enough, he'll direct it!" Here's the synopsis of the
Sharp Teeth
book: "Ruled by competing packs of werewolves, the seedy underside of LA is far stranger than anyone ever imagined. Lycanthropes hire themselves out as hit men and pushers, both driving and feeding off the criminal world. At the center of the story is Anthony Silvo, a self-professed loner and dogcatcher who falls in love with a mysterious woman; she leads a second life as a werewolf and works for Lark, the leader of the most dangerous werewolf pack on the streets. Her growing relationship with Anthony causes her to regret the wild choices of her past and seek out a new life. Meanwhile, Lark suspects that competing packs of lycanthropes are after his power and he prepares for a massive, citywide conflict. Other subplots include a detective's investigations into werewolf-related murders and a comic bridge tournament that might have ties to the LA drug trade." Any thoughts on this possible collaboration? Let us know!