Movie News
Benicio Del Toro to Join Oliver Stone's Savages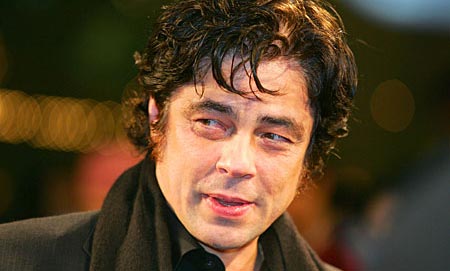 We already had several reports about this rumor, but now it looks that things are getting serious with the upcoming Oliver Stone's adaptation of Savages.
Apparently, previously rumored Benicio Del Toro is now in some serious talks with director to take on the role of the leader of the drug cartel and villain of the film. It's quite logical decision, if you ask me. On the other hand, still nothing official on Salma Hayek's involvement, so consider her as "in discussions."
So, you already know that Aaron Johnson and Taylor Kitsch are already on board, and they will play "two pot-growers whose shared girlfriend is kidnapped by a Mexican drug cartel demanding that they grow exclusively for them."
If negotiations with Hayek work out, she would play "the matriarch of the cartel that becomes maternal to the boys' kidnapped girlfriend Ophelia."
And, while we're here at Ophelia, let us mention that Jennifer Lawrence was originally set to play "O" right before she became too busy with her involvement in The Hunger Games. Now we have Olivia Wilde rumored for that part. But, as usual, we'll have to wait for the official reports on that.
In a meanwhile, let me remind you that Oliver Stone is actually adapting Don Winslow's novel of the same name, with script currently being penned by Stone, Winslow and Shane Salerno (Shaft).
Check out the description of the Savages novel: "The future is looking good for Laguna Beach, Calif., marijuana growers Ben and Chon, until they receive an ominous e-mail from the Baja Cartel. Attached is a photograph showing the decapitated bodies of other independent drug dealers. The message is clear: sell your product through us or else.
Ben and Chon try to resist, but matters escalate after cartel thugs abduct Ophelia, the guys' beautiful young playmate and accomplice, and hold her for a cool million ransom. Meanwhile, Elena "La Reina" Sanchez Lauter, the leader of the Baja Cartel, must deal with rival drug gangs and potential overthrow from within. Ben and Chon propose a trade that Elena can't refuse, setting the stage for the violent and utterly satisfying ending."
Filming on Savages is set to begin in June. Stay tuned!