Movie News
X-Men: First Class New Image; Nicholas Hoult Answers Fan Questions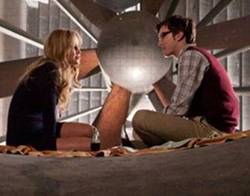 A new photo from the upcoming movie X-Men: First Class was released through the official X-Men Movies Facebook page.
The image of two X-Men characters sitting underneath a model for an aircraft; the characters are Hank McCoy (played by Nicholas Hoult) and Raven Darkholme (played by Jennifer Lawrence). Their X-Men roles are The Beast and Mystique respectively.
Hoult also responded some fan questions on the Facebook page. Here are the most important questions answered:
Question: What drew you to the role of Hank McCoy/Beast?
Hoult: The fascinating part of the role for me was the chance to play Hank/Beast before and after his transformation. The combination of his intelligence and wit offset by his animalistic appearance was fun to play.
Question: What did you think of the original Beast?
Hoult: I thought Kelsey Grammer did a fantastic job when he portrayed Beast, his charm and eloquence was something I wanted to try and emulate. However, in First Class I play Hank younger before becoming a politician, when he is a scientist and still learning about himself and his abilities. So I didn't want to try and just play a younger Kelsey but also bring something new to the role.
Furthermore, Hoult talked about his preparation towards Kelsey's dialect and fitness training as well as wearing few size larger shoes in order to ape-like feet that would be added in post production. Also Hoult admitted he was mostly related to intellect of Beast rather than the brute strength.
The feature co-starring James McAvoy, Michael Fassbender, Rose Byrne, Zoe Kravitz, Kevin Bacon, January Jones and Oliver Platt. The project is helmed by Matthew Vaughn (Kick-Ass).
X-Men: First Class will be distributed by Twentieth Century Fox. The film will hit theaters on June 3.
Check out the image below.
X-Men: First Class, Beast
Source: Facebook