Movie News
Brooklyn Decker, Anna Kendrick and Chris Rock Join What To Expect When You're Expecting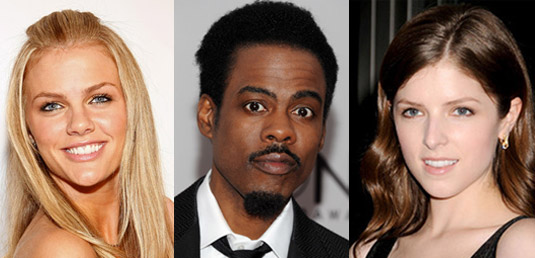 Kirk Jones' upcoming adaptation of the bestseller What to Expect When You're Expecting is getting bigger every single day. We've just learned that two more ladies are joining the whole thing! Chris Rock has also just signed on. So, check this out!
Anna Kendrick and Brooklyn Decker are set to star in the upcoming rom-com, and they will join the cast that already includes Cameron Diaz and Jennifer Lopez.
As we said, What To Expect When You're Expecting is a romantic comedy which follows the relationships of six different couples as they experience the thrills, terrors, surprises, aches, and pains of preparing to embark on life's biggest journey: parenthood.
According to the latest reports, Decker comes on board to play the role of Skyler, a relentlessly perky woman who is married to an older man and pisses off her friends because she flies through her pregnancy with twins with ease.
On the other hand, Kendrick will play a Rosie, who reunites with an old flame and fellow food-truck owner and becomes pregnant.
According to Deadline, Rock will play "Vic, who is the head of a group of expectant fathers who lectures them on what it's really like to have a baby and become a father."
Let us once again remind you that this project is named after one of the 25 most significant books of the last 25 years by USA Today.
Read by 93% of eager mothers and considered the pregnancy bible, it has sold over 20 million copies worldwide. The book was translated into over 40 languages and has remained on the New York Times bestseller list for over 440 weeks.
The series, which includes What to Expect the First Year and The Toddler Years, among others, has sold over 40 million copies.
What To Expect When You're Expecting begins shooting this summer and will hit the theaters on May 11th, 2012.