Movie News
Jean-Pierre Jeunet to Adapt The Selected Works of T.S. Spivet and Red Leaves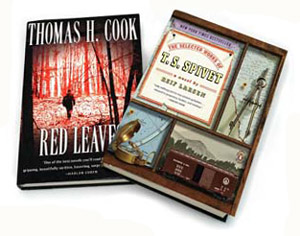 We all know who Jean-Pierre Jeunet is, right? The man behind 1997′s Alien: Resurrection title has some quite interesting plans for future, and at this moment those plans include two new projects that Jeunet is considering for his next movies.
One of them is an adaptation of Reif Larson's debut novel The Selected Works of T.S. Spivet, and the other one is an adaptation of H. Cook's novel titled Red Leaves.
According to Variety, Jeunet is currently writing The Selected Works of T.S. Spivet adaptation with his Amelie and A Very Long Engagement co-scribe Guillaume Laurant.
He's eyeing both as directing vehicles, and it looks that 'Spivet' will be English-language pic, and his next project as well!
The Selected Works of T.S. Spivet is "a boundary-leaping debut tracing a gifted young map maker's attempt to understand the ways of the world", it explores the imaginative mind of a child, mixing realism and fantasy, or if you prefer – it's a story of a 12-year-old cartographer's cross-country adventure from Montana to the Smithsonian Museum.
On the other hand, Cook's novel Red Leaves (which looks great by the way) centers on "…Eric Moore, who has a prosperous business, a comfortable home, a stable family life in a quiet town. Then, on an ordinary night, his teenage son Keith babysits Amy Giordano, the eight-year-old daughter of a neighboring family.
The next morning Amy is missing, and Eric isn't sure his son is innocent. In his desperate attempt to hold his family together by proving his-and the community's-suspicions wrong, Eric finds himself in a vortex of doubt and broken trust.
What should he make of Keith's strange behavior? Of his wife's furtive phone calls to a colleague? Of his brother's hints that he knows things he's afraid to say? In a "heart-wrenching and gut-wrenching" (New York Daily News) race against time and mistrust, Eric must discover what has happened to Amy Giordano and face the long-buried family secrets he has so carefully ignored."
As you see, this definitely sounds interesting, and we're happy to hear that Jeunet is occupied with these adaptations.
We'll keep an eye on both of them, so stay tuned for more updates!