Cannes Film Festival
Cannes 05/16 – Arnaud Desplechin's 'A Christmas Tale' and Nuri Bilge Ceylan's 'Three Monkeys'
Arnaud Desplechin's 'A Christmas Tale'
In the first US sale of a Competition title at Cannes, Wild Bunch has sold
Arnaud Desplechin
' s
A Christmas Tale
(
Un conte de Noël
) to IFC. The family drama, which screens here on Friday, stars an ensemble cast including
Catherine Deneuve, Mathieu Amalric, Chiara Mastroianni, Emmanuelle Devos, Anne Consigny
and
Melvil Poupaud.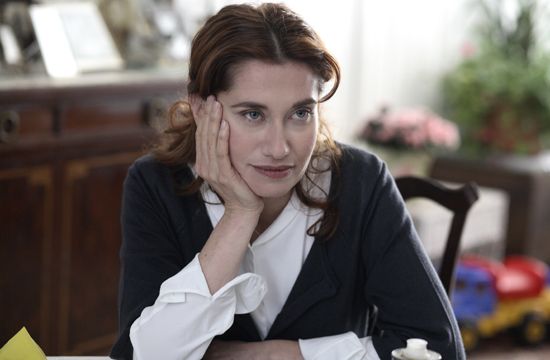 Arnaud Desplechin has made a movie rife with dire family secrets, ghosts and tortured survivors. "Un conte de Noël" is a wild Christmas story set in cold, provincial northern France. Catherine Deneuve is regal Junon, the mother. She and her husband, Abel, played by Jean-Paul Roussillon, are having their children over for the holidays. Joseph, their youngest, died as a child of a rare genetic illness, but his memory hovers over the household. There is a daughter played by Anne Cosigny, who seems to live in perpetual mourning. Then, there are the surviving sons and their women: Chiara Mastroianni plays the wife of Ivan, (Melvil Poupaud), and Emmanuelle Devos, a passing fancy of Henri, the tormented, unloved son, (Mathieu Amalric). His parents conceived him in the hope that, through a bone marrow transplant, he could save Joseph, but he failed, and thus failed to win their love. He has come home to wreak some havoc. This Christmas celebration starts with a terrible conundrum: Junon discovers she has the same fatal disease that killed her son; she can only be saved by a transplant from somebody who shares the gene. Who will it be? It is Henri, the unloved son who has inherited his mother's bad blood. Junon tells him that she doesn't love him. And Henri is not devastated because this is an old story: He is the child who survived, he can never make it. The more devastating the declarations of the lack of love between parents and children, and among the siblings, the more you sense another current running through this family.
Nuri Bilge Ceylan's 'Three Monkeys' 
A familiar name in Cannes, – he presented the short Cocoon in 1995 and feature films Distant in 2003 and Climates in 2006, all in Competition – Nuri Bilge Ceylan is back on the Croisette with a dramatic feature entitled Three Monkeys. With a plot loaded with the violence of complicated events, the Turkish director focuses on the four-member family, who want desperately to stay together by not confronting the truth, thus qualifying the film as a fable like 'three monkeys' from which the title was drawn.