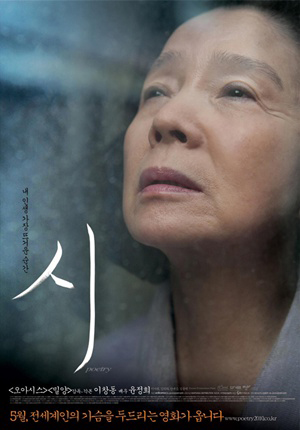 Another movie that will have a premiere at the upcoming Cannes Film Festival In Competition is Lee Chang-Dong's (South Korea) latest project named Poetry.
Lee Chang-Dong started as a novelist, and then moved to writing screenplays for some of the biggest names of the early 90s, including Park Gwang-Soo. From 1997's (Green Fish) to 2000's (Peppermint Candy), from 2002's (Oasis) to last year's fabulous (Secret Sunshine), he's become one of the most renowned directors in Asia.
Well, quite interesting title for a movie that's already described as drama centered on a woman at the end of her life in search of new meaning. Yes, it  does sound Bong Joon-Ho's movie Mother, since the basic story is kind of similar, another one about an elderly woman and her life temptations.
Here is the official Poetry synopsis: "A profound story of an elderly woman in search of the fundamental poetry from her life. Aside from being sentenced with an Alzheimer's disease, she faces another dilemma when her teen-aged grandson who is under her care is found to be one of the assaulters of a girl from his junior-high school who had committed suicide."
As you see, this is some serious story, that is (we could easily say) kind of multi-leveled one. That's exactly why this director previously said that, with Poetry, he actually wanted to come in touch with the audience, but in a difficult and unfamiliar way, rather than make it happen too easily.
So, if you are one of those who still believe in beauty that comes from nowhere, and just blinks in front of your eyes, that you'll be the right person to watch this story about a very simple woman, who has wrinkles on her face now but she has not aged on the inside at all.
This is a woman who will be overcome with emotions when she sees the moon in the night sky, despite having seen it for 60 years, and forgets about reality at times. Now, that's what we call a simple poetry!
In the leading role we'll have a chance to watch veteran actress Yoon Jung Hee (Yoon Jeong Hee), and for the end of this report, we'll give you the directors explanation of this cast-choice:
"She is a legendary actress, the wife of a world-renowned musician, and an actress who gave up everything she had to support her husband for many years. In a way, it may seem like she lives a great life but on the inside, there may be a part to her that doesn't differentiate her from any other average woman in her 60s who lives in an apartment somewhere in Seoul. The movie is about such a woman reflecting on her life and about the choices she makes."
We have no doubt that she is the perfect one for this kind of role, indeed!
So, as you see, nice job for Lee Chang-Dong, and his team. We wish them all good luck, and who knows, everything is possible.
He already has good experience with this Film Festival, since we all remember his last movie Secret Sunshine won the best actress award for Jeon Do-hyun right there, at Cannes. History repeating, or not? Let's wait and see!
[youtube]http://www.youtube.com/watch?v=3adZ4JX_5nE[/youtube]