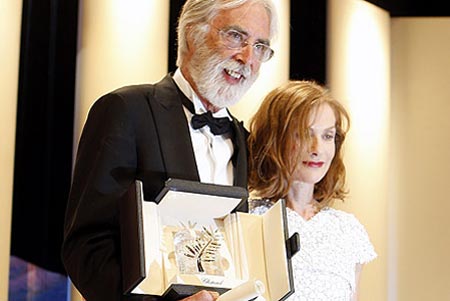 We're all ready for this year's Cannes Film Festival, and it looks that we're not the only one. According to the latest reports, Michael Haneke's Love (Amour) may walk the Croisette this May. And when we say Love we actually mean These Two, because that was the previous title of Haneke's latest project that has quite interesting casting team on board. Check out the rest of this report for more details.
In Love, Haneke is actually reteaming with Isabelle Huppert (The Piano Teacher, Time of the Wolf), but the movie also star French icon Jean-Louis Trintignant and Emmanuelle Riva as well as Portuguese actress Rita Blanco.
The story centers "on cultured octogenarians Georges (Trintignant) and Anne (Emmanuelle Riva), who are retired music teachers.
Their daughter (Huppert), also a musician, lives abroad with her family. One day, Anne suffers a minor stroke. When she leaves the hospital and returns home, she is paralysed down one side. The love that binds this old couple will really be put to the test."
The film started shooting in February and according to Variety, "the turnaround would have to be kind of historic, particularly since it was an extensive, 40-day shoot."
So, does this mean Haneke's Love is ready for Cannes? We hope so, and we have no doubts that it could be traditionally successful (let me remind you that he won the Palme d'Or for The White Ribbon).
Excited about Michael Haneke's Love? Let us know, and stay tuned!