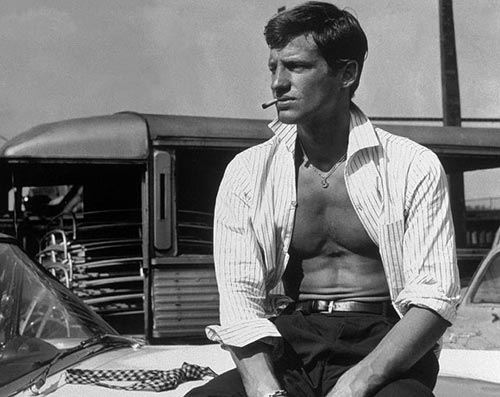 We are here to continue with news from Cannes. We just learned that The Festival de Cannes will welcome Jean-Paul Belmondo on Tuesday 17 May with a special evening held in his honour. That definitely sounds great, and if anybody deserves to have a special night at this year's Cannes, it's Mr. Belmondo, I hope you all agree.
Since the late 1950s, Jean-Paul Belmondo has encapsulated the very best of popular cinema (Philippe de Broca, Henri Verneuil, Gérard Oury, Georges Lautner, Jacques Deray), ably blending this with the glorious art-house cinema of the '60s and '70s. (Jean-Luc Godard, Jean-Pierre Melville, François Truffaut, Claude Lelouch and Alain Resnais, not to mention Vittorio Sica and Alberto Lattuada).
That Man from Rio, Breathless, Pierrot le Fou, Léon Morin,Priest, Mississippi Mermaid, Le Magnifique, Stavisky and Borsalino are just a few examples of his extraordinary range.
Or, as Gilles Jacob and Thierry Frémaux explained:
"We are delighted that he has agreed to attend this gala evening in celebration of his talent and career. His range and personal charisma, the precision of his acting, his cocky wit, the ease with which he carries himself have made him, along with Jean Gabin and Michel Simon, one of the greatest French actors of all time, a fact to which many films bear ample witness.
No doubt the entire panoply of French actors, headed by his Conservatory friends Jean Rochefort, Claude Rich, Pierre Vernier and Jean Pierre Marielle, will want to walk up that Cannes staircase to celebrate 'Bébel' to the sound of the rapturous applause of his diehard fans."
Let's also mention that it has long been the wish of the Festival de Cannes to see him tread the red carpet.
Surrounded by friends and admirers, Jean-Paul Belmondo will attend the première of Vincent Perrot and Jeff Domenech's documentary, Belmondo, The Career on Tuesday 17 May.
With every new update from Cannes, we'll be back!