Movie News
Carey Mulligan as Eliza Doolittle in My Fair Lady Remake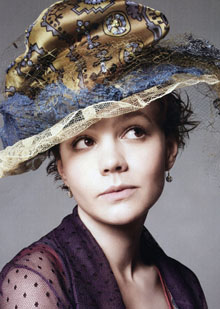 Carey Mulligan
is set to play the female lead, Eliza Doolittle, in the
My Fair Lady
remake that
Emma Thompson
is writing with
John Madden
who will direct. Maybe you had remake-thing over your heads, but who knows, maybe this one could be fun, and it will certainly be interesting to see young Mulligan in role that was once played by
Audrey Hepburn
. We all know that 1964 version of
My Fair Lady
was a huge success. It was directed by
George Cukor
, with Hepburn and Rex Harrison in the leading roles. The film won eight Academy Awards, including Best Picture, Best Actor, and Best Director! So the role of Eliza Doolittle, is kind of iconic, and this is going to be very big bite for
Carey Mulligan
. It looks that previosly,
Keira Knightley
was planned to be the leading star of the movie, but this actress ultimately dropped out, reportedly because the project was "taking too long to come together." In the meantime, Thompson was asked whether it was true that Mulligan had been cast in the musical movie, and she said: "I think Carey is set to play it, yes." Now, the biggest question is – who will play Henry Higgins? There are already rumors that
Hugh Grant
is linked to the role. As you already guess, Thompson would be more than happy to see Grant as Higgins, although she explained: "We still don't know about Higgins. I love Hugh so I'd love him to do it, he might want to, he might not want to, so we don't know yet. But hopefully we'll make it later this year." So as you see, our fair lady is back, and the only thing we can do now, is guessing… Is this leading role something Mulligan can do? Because, if she can deliver an energetic performance as Eliza, it could put her right back in the hunt for Oscar gold (that she missed this year with
Education
), and who will be her Higgins?