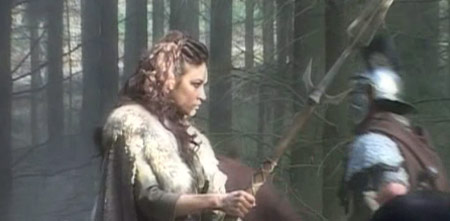 Guys over at
RottenTomatoes
launched exclusive behind the scenes video for
new fantasy adventure "Centurion" which is directed by Neil Marshall ("Doomsday," "The Descent") and based on a script he wrote.
Based on the legend of the Ninth Legion, an army of 3000 unstoppable Roman warriors who vanished without trace, Centurion is the tale of their vicious conflict with a murderous adversary, the Picts. Quintus Dias (Michael Fassbender), a Roman corporal, is taken hostage by the Pict King, Gorlacon and the Ninth are charged with bringing him home and ending Pict domination of Britain. Led by General Virilus (Dominic West) and guided by a Pict prisoner and warrior woman named Etain (Olga Kurylenko), the army marches towards enemy territory and finds itself in the midst of a perilous battle with a mysterious foe.
"Centurion" which stars Michael Fassbender, Dominic West, Olga Kurylenko, Imogen Poots, David Morrissey, Noel Clarke, JJ Feild, Paul Freeman, Lee Ross, Ulrich Thomsen, Riz Ahmed should be released end of 2009.