Movie Photos
Awesome One Sheet For CHASTITY BITES (Plus Pics & Trailer)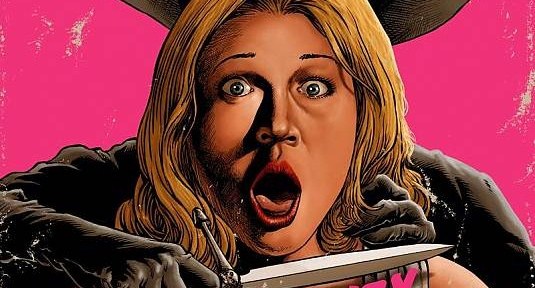 Who says the virgin always lives 'till the end? Lol, this brand new one sheet for the upcoming horror comedy Chastity Bites looks fantastic! See, that's why we all love illustrations, and now we're definitely in for John V. Knowles' latest flick which will have its world premiere today at the Dances With Films film festival! Head inside to see what we're talking about… [jwplayer mediaid="153724″] John V. Knowles directed the whole thing from a script written by Lotti Pharriss Knowles which combines horror with biting social satire, in the vein of Buffy the Vampire Slayer, Heathers and the Scream movies.
The script pokes fun at the some of the more absurd facets of our current society, including the obsession with maintaining youth and beauty at any cost, the rift between liberals and conservatives, and the hypocrisy of our attitudes towards sex (especially for teenagers).
Or, if you prefer the official synopsis for the movie:
Notorious serial killer Elizabeth Bathory believed that bathing in virgin blood would keep her young and beautiful forever. Still alive today she's found a perfect hunting ground for her "botox" as an abstinence educator in conservative America…but will a brave young blogger and reporter for the high school paper finally put an end to the "Blood Countess's" reign of terror, and save her best friend from becoming the next victim?
Chastity Bites stars Allison Scagliotti, Francia Raisa, Louise Griffiths, Eddy Rioseco, Amy Okuda and Jennifer Gimenez. At the end of this report, let us also add that this great-looking poster is designed by illustrator, writer, and filmmaker Nathan Thomas Milliner, owner of Rebel Rouser Art. Click to enlarge & stay tuned for more updates!