Movie News
Check Out The New Creepy Image From Darren Aronofsky's NOAH!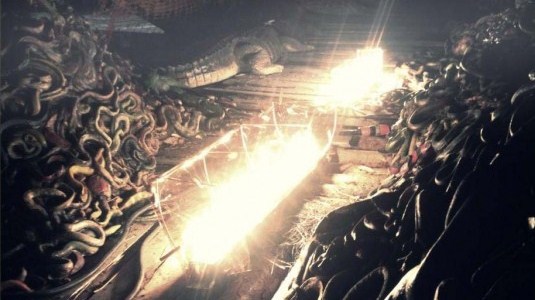 What the hell is that alligator doing on this spooky new photo from the upcoming Noah movie? Well, he's obviously looking for something (someone) to eat, right? Or, we could be wrong. After all, he's not going to be the only disgusting creature on the famous ship (just take a look at all those snakes!) And we all thought that Russell Crowe and Logan Lerman look like shit in Darren Aronofsky's latest project which is set to open in March, 2014. As you already know, this Noah thing is a close adaptation of the Biblical story of Noah's Ark. You know the rest of the story – on one side we have a cruel world ravaged by human sin, and on the other hand there's our hero Noah with his divine mission – to build an Ark to save creation from the coming flood. Anyway, this new photo is here thanks to cinematographer Matthew Libatique and his Twitter account, where he shared the image with a little note that goes like this:
Pre lighting on the holiest day of the year.
Funny guy that Libatique. I'm sure you're going to let us know what you think about this movie so far, and in the mean time, I will remind you that Noah also stars Jennifer Connelly, Saoirse Ronan, Douglas Booth, Emma Watson, Ray Winstone, Anthony Hopkins, Kevin Durand and Mark Margolis. The movie opens on March 28th, 2014.