Movie News
Chloe Moretz, Emily Browning, Saoirse Ronan Want to Star in The Hunger Games?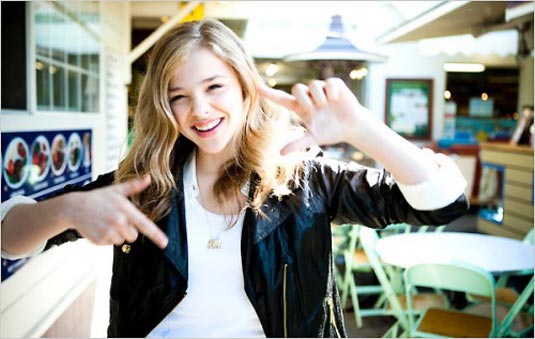 Well, you know what – I would love to star in the Hunger Games as well! Yesterday I reported that Hailee Steinfeld, Abigail Breslin and Jennifer Lawrence are all contenders for the role in this project, but today, we already have an update!
Apparently, Chloe Moretz, Lyndsy Fonseca, Emma Roberts, Saoirse Ronan, Kaya Scodelario, Emily Browning and Shailene Woodley "are all among the staggering 30 actresses who have met or read for the role".
Yes, you read that correctly – 30 actresses! According to the latest reports, casting director Debra Zane stated that they were open to unknown actresses. Zane's office was also tracking potential actresses online via Breakdown Services.
Variety reports that Lionsgate has Gary Ross directing and Billy Ray set to pen the script that Lionsgate hopes will be the next "Twilight"-like franchise. Source material is the hit book series by Suzanne Collins, which takes place in a dystopian future where a young girl joins a survival contest to save her community.

But now, let's take a look at the character – Katniss Everdeen. She's described as a woman between 15 and 20, so it looks that age is a big factor in director's decision, as it will impact the audience demographic and other casting. I really have no idea who should win this.
Kick-Ass star, Chloe Moretz could definitely be an interesting choice, but we could say that for almost every actress from this report. You remember great Jennifer Lawrence from Winter's Bone and True Grit star Hailee Steinfeld. Maybe Emma Roberts from Scream 4 or Emily Browning from Sucker Punch? Then we have Lyndsy Fonseca who was also in Kick-Ass team, then lesser known names like Kaya Scodelario (Skins) and Shailene Woodley (The Secret Life of the American Teenager)…
So, we'll now have to wait for the official decision, but, in a meanwhile, check out the official synopsis of the book:
"In the ruins of a place once known as North America lies the nation of Panem, a shining Capitol surrounded by twelve outlying districts. The Capitol is harsh and cruel and keeps the districts in line by forcing them all to send one boy and one girl between the ages of twelve and eighteen to participate in the annual Hunger Games, a fight to the death on live TV. Sixteen year-old Katniss Everdeen regards it as a death sentence when she steps forward to take her sister's place in the Games.
But Katniss has been close to dead before and survival, for her, is second nature. Without really meaning to, she becomes a contender. But if she is to win, she will have to start making choices that weigh survival against humanity and life against love."