Movie News
Collins Out of EVIL DEAD, Bardem Drops DESPICABLE ME 2 and Moore Exits LOVELACE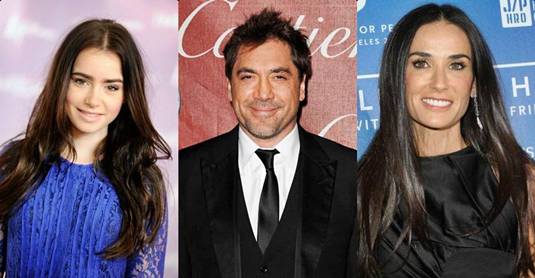 Lily Collins
, the girl with the eyebrows, was in line to play the lead role of Mia in the remake of the 1981 cult horror movie,
Evil Dead
, but she has stepped aside due to 'scheduling issues'. Star of Tarsem Singh's upcoming Snow White movie Mirror Mirror is due to start filming on novel adaptation The Mortal Instruments
.
Evil Dead, being produced by Sam Raimi and directed by Fede Alvarez is looking to start shooting in March and has not announced any other cast members yet. Also
Javier Bardem
, who was in negotiations to voice the lead bad guy in
Despicable Me2
, is not going to lend his vocal talents to a villain El Macho after all. The actor having to call it quits with the project for reasons vague. The sequel to Universal and Illumination's surprise 2010 hit comes to theaters July 3rd, 2013. Finally,
Demi Moore
, who had signed on to portray feminist activist Gloria Steinem in the
Rob Epstein
and
Jeffrey Friedman
-directed film, has dropped out of her starring role in the upcoming Linda Lovelace biopic following her admission to rehab for 'exhaustion' and has now checked into a separate facility to seek further treatment.
Lovelace
began shooting in December, with a cast that includes
Amanda Seyfried
,
James Franco
,
Peter Sarsgaard, Adam Brody, Sharon Stone
and whoever the producers find to replace exhausted Moore.