Movie News
Dakota Fanning Set For Twilight Sequel New Moon?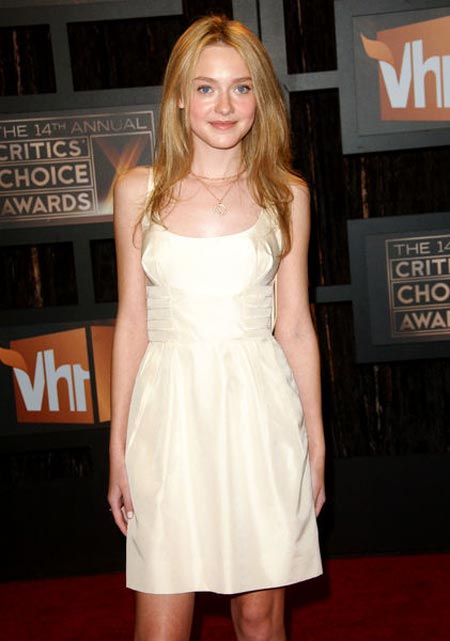 E ! Online is reporting that Dakota Fanning (Hide and Seek, The Secret Life of Bees, Push) is in talks to join the cast of "New Moon", the upcoming sequel to "Twilight." There is nothing confirmed but she could be playing the role of Jane. From E! Online:
I can exclusively report that the 14-year-old child star-she turns 15 on Feb. 23-is in talks to play Jane opposite Robert Pattinson & Co. in New Moon, the upcoming sequel to box office megahit Twilight. "There were no auditions," a source reveals. "They just offered it to her outright, and now they're in negotiations. They've been going back and forth." Jane is a member of Italy's Volturi, the most deadly group of bloodsucking killers in author Stephenie Meyer's best-selling series. In the casting notice we got our hands on earlier this month, Jane is described as a petite blonde with a "Botticelli angel-like face…[and] crimson irises." While fellow Volturi guards Demetri & Felix "are three times the size of her, they are terrified of her," the casting notice reads. Coincidentally (or maybe not), an online petition started by a Twilight fan already asks the studio, Summit Entertainment, to cast Fanning because she would be "perfect" for the role.
Fan support for Dakota Fanning was strong within the "Twilight" nation – boosters even took a cue from the Taylor Lautner debacle of 2008 and circulated a petition claiming Dakota was "perfect" for the part. (To see more "Twilight" petitions click here.) Melissa Rosenberg is writing the screenplay and Chris Weitz (The Golden Compass) is directing, again star Kristen Stewart, Robert Pattinson and Taylor Lautner. Filming on "New Moon" is scheduled to begin in Italy this spring. The plan is for it to be in theaters by November 20.