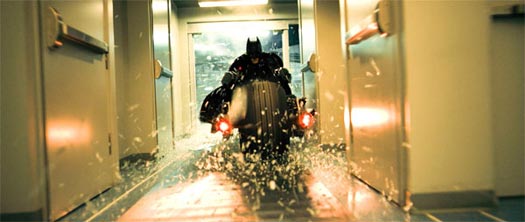 Warner Bros continue promoting "
The Dark Knight
" and the fourth TV spot for the film already appeared online. In The Dark Knight, Batman raises the stakes in his war on crime. With the help of Lieutenant Jim Gordon and District Attorney Harvey Dent, Batman sets out to dismantle the remaining criminal organisations that plague the city streets. The partnership proves to be effective, but they soon find themselves prey to a reign of chaos unleashed by a rising criminal mastermind known to the terrified citizens of Gotham as the Joker. Academy Award nominee
Heath Ledger
(Brokeback Mountain) stars as arch-villain The Joker, and
Aaron Eckhart
plays District Attorney Harvey Dent.
Maggie Gyllenhaal
joins the cast in the role of Rachel Dawes. Returning from Batman Begins are
Gary Oldman
as Lieutenant Jim Gordon, Oscar winner
Michael Caine
(The Cider House Rules) as Alfred, and Oscar winner
Morgan Freeman
(Million Dollar Baby) as Lucius Fox. Nolan is directing the film from a screenplay written by
Jonathan Nolan
and
Christopher Nolan
, story by
David S Goyer
& Christopher Nolan. The Dark Knight is based upon characters appearing in comic books published by DC Comics. Bob Kane created Batman. The behind-the-scenes creative team includes two-time Oscar-nominated director of photography
Wally Pfister
(The Prestige, Batman Begins), Oscar-nominated production designer
Nathan Crowley
(The Prestige), Oscar-nominated editor
Lee Smith
(Master and Commander: The Far Side of the World) and Oscar-winning costume designer
Lindy Hemming
(Topsy-Turvy). "The Dark Knight" is scheduled to hit conventional and IMAX theaters on July 18th.