Movie Photos
Don't Miss First Photos From Horror Spoof A HAUNTED HOUSE!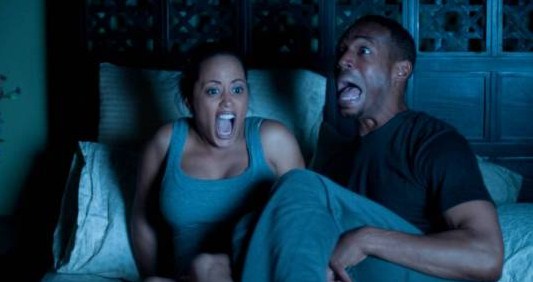 Horror + comedy + thriller
=
Marlon Wayan
's upcoming hilarious horror spoof titled
A Haunted House
! And when you have a house, ghosts and stuff like that – you immediately know that this is going to be a parody of the
Paranormal Activity
franchise! Today we have some super-funny first images from the whole thing to share with you, so what can I tell you guys – don't miss the fun!
A Haunted House
comes from director
Mike Tiddes
, while
Marlon Wayans
and
Rick Alvarez
are behind the script that will center on newlyweds Malcolm and Kisha who move into their dream house, but – they quickly find they're not alone! But it's not the house that's haunted, but his wife that is possessed with spirits – or as Malcolm calls it –
relationship baggage
. So, Malcolm decides to hire everyone from a priest to modern day ghost busters to rid her of the demon, determined not to let the evil spirit ruin his marriage… or his sex life for that matter. Sounds great, indeed! But that's not such a surprise when we have the creators of that
Scary Movie
on board for another parody, right? Beside Wayans, this movie also stars
Nick Swardson
,
David Koechner
,
Essence Atkins
,
Cedric the Entertainer
,
Bobbie Lee
and
Dave Sheridan
.
A Haunted House
opens on January 11th, 2013. What do you think?