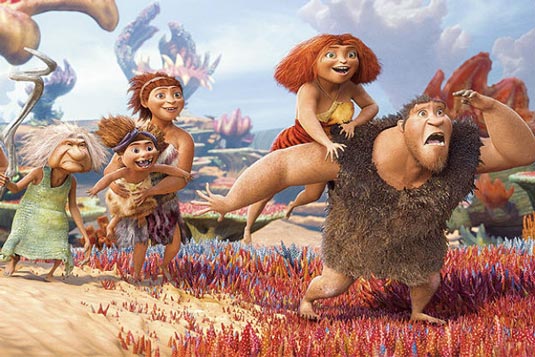 The first trailer for The Croods has appeared online. This Flintstones-esque tale documents the lives of a cave-family who never wander far from their abode under the stern of advice of their patriarch, Grug. When 'free-spirited' daughter Eep sets off on her own little adventure, the Croods discover that there's a world beyond their musty hovel.
Taking place circa… well, some time in prehistoric period – it seems to be taking a leaf out of the Ice Age, though the animals they encounter sure aren't to be found in any encyclopaedia.
Watch the first trailer for The Croods below:
Set to hit the theaters on March 22nd, 2013 (heheh, I almost wrote 'for my birthday'), The Croods is written and directed by Kirk De Micco and Chris Sanders and it stars the voice cast of Nicholas Cage, Ryan Reynolds, Emma Stone, Catherine Keener, Clark Duke, Cloris Leachman and others.