Movie Trailers
Eli Roth-Produced CLOWN Gets Trailer
A cursed clown suit turns a loving father into a psycho killer in a new horror film Clown, based on a fake trailer Jon Watts made a few years back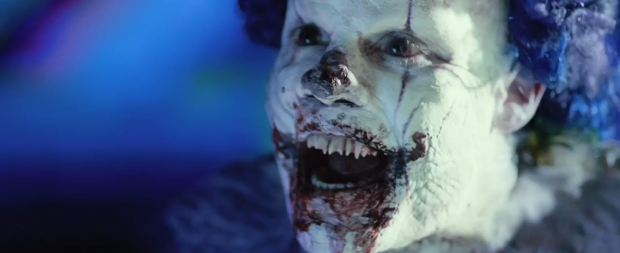 A cursed clown suit turns a loving father into a psycho killer in a new horror film Clown, based on a fake trailer that a TV veteran Jon Watts made a few years back. Producer Eli Roth helped develop it into a feature and the trailer for the completely real version is online, and it looks pretty scary to me.
Although Watts is a newcomer to feature film-length directing, the movie has an impressive pedigree behind it, with Andy Powers, Peter Stormare, Laura Allen and Elizabeth Whitmere starring and Robot and Frank scribe Christopher D. Ford providing the script.
The movie premiered at the Toronto Film Festival last year and is still waiting for distribution. Seems like a perfect fit for SXSW or Fantastic Fest in the coming year.
Check it out below.
When a father finds an old clown suit in his attic, he gives it a spin to brighten up his son's sixth birthday party. Laughs soon turn to screams, however, when the suit refuses to come off. Before long, he finds himself mysteriously transforming, plagued with murderous impulses that he can't control.