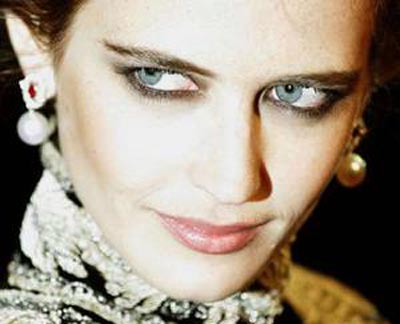 Tim Burton's project Dark Shadows is coming, and as usual, we're here to share the latest updates just with you! Back in February you learned that lovely French actress, Eva Green will star opposite Johnny Depp, and that she will play Angelique Bouchard Collins, a powerful witch who was alternately tormented and bewitched by her love-hate relationship with Barnabas Collins.
But today, we have some new details about the whole thing, so make sure you check that out!
First of all, expect unexpected! In an interview with MTV, Green shared:
"I haven't seen the TV series, but from what I've seen on the Internet, it's very different. My character is very different. She's American, blonde, cool, in the '70s. She is this sexy witch, very powerful in town, she's very cool. She has many faces."
Wow, this definitely sounds fresh! Especially since we know that Dark Shadows project will revolve around a centuries old vampire searching for fresh blood and his lost love, Josette, and his many adventures involving ghosts, werewolves, time travel and other quite weird stuff.
Now, thanks to Green, we know that it will be "something that he's never done, I think. It's much more focused on the actors. It could almost be a play. I haven't seen the TV series, but from what I've seen on the Internet, it's very different."
Still, she looks quite excited about this project, and expects rehearsals to begin next month.
At the end let me remind you that Jackie Earle Haley, Bella Heathcote, Helena Bonham Carter and Michelle Pfeiffer are all in talks to star in this project.
Seth Grahame-Smith has penned the script and Depp, Graham King, Richard Zanuck, Christi Dembrowski and David Kennedy are producing.
We'll keep an eye on Dark Shadows, so make sure you stay tuned!