Movie News
Bionic Woman Lead Michelle Ryan to Star Opposite Harry Treadaway in Cockneys vs. Zombies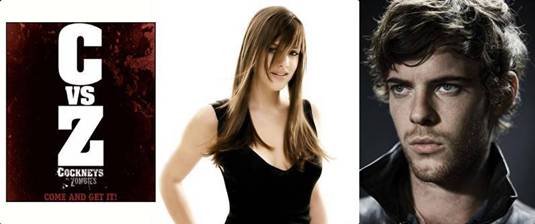 The lovely Michelle Ryan (4.3.2.1.) is set to star in zom-com Cockneys Vs. Zombies, alongside iconic British star Harry Treadaway (Control), Honor Blackman (Bridget Jones's Diary) and Jack Doolan (Cemetery Junction), and directed by Matthias Hoene.
Bionic Woman lead Ryan will find the ex-Eastender and co-star Harry Treadaway going eyeball to eyeball with the undead. After their attempt to rob a 350 year-old crypt it results in them accidentally unleashing an army of zombies.
Principal photography will start at east and west London locations from March 21. The screenplay is written by James Moran (Severance). Rasmus Hardiker (I Want Candy), Ashley Thomas ( 4.3.2.1.) and Alan Ford (Snatch) also join the cast.
Helmer Hoene openly revealed,
What I love about the Cockney vs. Zombies concept is that it takes two established British genres: the gangster film and the horror film and blends them together into something that is more of an action/gangster film than a straight zombie film. In the vein of Evil Dead II and Braindead, it'll be grittier and scarier than Shaun of the Dead and more colourful and fun than 28 Weeks Later . It's Football Factory with zombies. The film is scary, darkly comic, witty and anarchic."
Michelle Ryan is recognized for portraying the role of Zoe Slater on the BBC soap opera EastEnders. She also starred in the short lived revival of the American TV series Bionic Woman.
In October 2010, she finished filming Cleanskin, a terrorist thriller starring Sean Bean and Charlotte Rampling. Ryan recently toplined the comedy Hug, directed by Ben Miller, which is in post-production as well. Another of her features, No Ordinary Trifle, is also currently in post-production.
While waiting for Cockney Vs.Zombies release date, take a look at trailer from a vampire story Beyond the Raven, directed by Matthias Hoene.
[youtube]http://www.youtube.com/watch?v=V3y1cpsQbrQ[/youtube]