Movie Photos
First Look at Evangeline Lilly in THE HOBBIT: THE DESOLATION OF SMAUG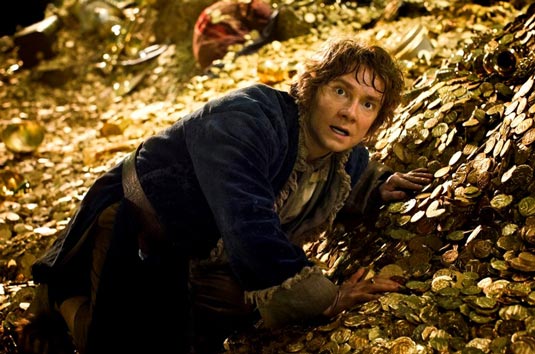 For a while now we knew that a fresh face will be introduced among the residents of Middle-earth, starting with The Hobbit: The Desolation of Smaug – of course I speak of Tauriel, an elf warrior played by gorgeous Evangeline Lilly. Why am I reminding you of this? Well, we have the first look at her elven grace in this photo, thanks to EW. Check it out after the jump, and then read about what Lilly had to say on her character.
"She's slightly reckless and totally ruthless and doesn't hesitate to kill,"
says Lilly. She's also not found anywhere in J.R.R. Tolkien's original fantasy novel, or in any of Tolkien's other writings, for that matter, but I'm sure you already knew that. Director Peter Jackson and his co-writers, Fran Walsh and Philippa Boyens, invented the character to expand the world of the elves of Mirkwood Forest — and to bring some more female energy to the otherwise male-dominated Hobbit narrative, which I heartily welcome.
"Tauriel is the head of the Elven Guard," Lilly explains. "She's a Sylvan Elf, which means she's of a much lower order than the elves we all became acquainted with in The Lord of the Rings. She doesn't hold the same kind of status that Arwen or Galadriel or Elrond or Legolas do — she's much more lowly. She sort of goes against the social order of the elves a little bit."
According to Lilly, Tauriel has a softer side, as well.
"She will definitely have a love story," she says. "I can't give away too much about it. It's not a huge focus but it is there and it is important and it does drive Tauriel and her story and her actions."
We instantly thought of Orlando Bloom's Legolas, naturally. Lilly won't say definitively one way or the other, but she does reveal this much:
"Tauriel's relationship with Legolas is significant. They've known each other since they were children, and Legolas' dad, [Elven king] Thranduil, has a soft spot for Tauriel and sees something very special in her. So if you grow up side by side, and your dad has a very special spot in his heart for this young woman who's a fantastic warrior, I think it's hard not to notice her." She laughs. "That's probably as much as I can say."
Lilly is well aware that some Tolkien purists will be skeptical about the introduction of a new character.
"I know beyond a shadow of a doubt that there are going to be people who will totally hate Tauriel, think that she shouldn't be in the movie, that it's a betrayal of Tolkien, and no matter what I do, it won't be right," she says. "There will be everything between that and people who adore her and think it's such a fun thing to have added to the film. I kind of got prepped for that being on Lost, because we had avid fans who were really extreme in their feelings about the show and its characters. But I think if anyone knows how to respect Tolkien, it's Peter, Fran and Phil. And Tauriel fits perfectly in that world."
So what do you think? Will Tauriel be a good refreshment in the nearly-sausage-fest that is Tolkien's world, or not? Sound off in the comments!