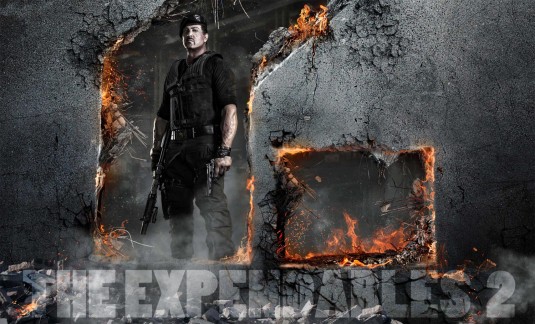 Here we go! Completely new extended TV spot for the upcoming
The Expendables 2
is here, and what can I tell you guys – you're about to see a lot of action and a lot of destruction!
Find them, kill them
– says Stallone, and so the fun starts. Quite logically, the rest of this 1-minute video clip shows us that the
Simon West
directed sequel definitely has one hell of the cast on board!
Sylvester Stallone, Jason Statham, Jet Li, Dolph Lundgren, Chuck Norris, Randy Couture, Terry Crews, Liam Hemsworth, Yu Nan, Jean-Claude Van Damme, Bruce Willis
and
Arnold Schwarzenegger
all star in the movie that will center on Barney Ross and his band of old-school mercenaries on their new risky job. When things go wrong and one of their own is viciously killed, the Expendables are compelled to seek revenge in hostile territory where the odds are stacked against them. Hell-bent on payback, the crew cuts a swath of destruction through opposing forces, wreaking havoc and shutting down an unexpected threat in the nick of time – six pounds of weapons-grade plutonium; enough to change the balance of power in the world. The Expendables 2 is set to open on August 17th, 2012.