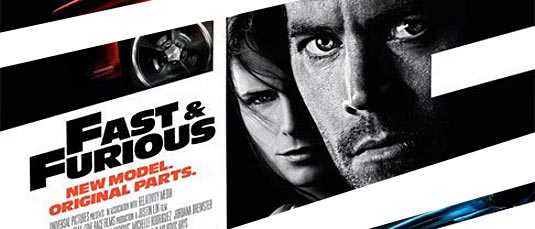 Brand new UK posters for the upcoming "Fast & Furious" film have been released.
The tagline promises – New model. Original parts. So, back in the fast lane are all the old favourites: Paul Walker as Brian O'Conner – who since the previous installment, has continued to cover his Tommy Hilfiger face with a scowl and stubble in various action and war movies; Vin Diesel – whose return as Dominic Toretto looks mildly perturbed at best – and has been making light of his situation since Tokyo Drift with movies such as The Pacifier and Babylon A.D.; plus the girls – Jordana Brewster as Mia Toretto and Michelle Rodriguez as Letty – who just seem glad to be working again.
"Fast & Furious" hitting theaters on April 3, 2009.