Movie News
AnnaLynne McCord Hopes For New Moon Role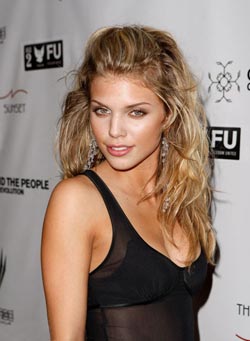 90210 star AnnaLynne McCord has admitted that she hope to join the cast of "Twilight" sequel "New Moon" and E! Online reported that she has auditioned for the role of Heidi. While readers of the Stephenie Meyer adult fantasy-romance novel might barely remember Heidi, the character is designed to be "bait" or a siren who brings humans to vampires for noshing time. She told press:
"Can I just tell you how much of a dork I am? I used to wear vampire teeth for like, a year straight. I'd go to the grocery store, and as I was checking out I'd look up and be like, 'Arrgh!' Like, I'm hardcore! This is way before [Stephenie Meyer's books], and then 'Twilight' was awesome."
"We are in negotiations [for a role in the film]. It's definitely something I would love to do; as most people know, I am obsessed with vampires. I'm a true-blood "Twilight" fan all the way. There's some scheduling conflicts, and we're trying to work that out now. We'll see what happens with it, but hopefully – fingers crossed – it'll smooth over and we'll be able to work it out."
McCord added that she is unfazed by reports that her potential character will only play a small role in the blockbuster movie.
"Honestly, for me, I really just want to do something really quick, very easy and be a part of a great film…I am more than happy to take the small role and then just take a week or two and go chill"
"New Moon" production is scheduled to begin in Washington next month, with a slated November release date.