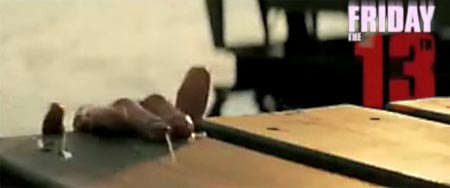 First TV spot for the upcoming "Friday the 13th" remake has been released.

Unstoppable masked killer Jason Voorhees returns to kill more promiscuous teens in this contemporary remake of the classic horror movie. Whitney (Amanda Righetti), Jenna (Danielle Panabaker), Trent (Travis VanWinkle), and the other counslers at Camp Crystal Lake find themselves hunted down by a machete weilding maniac known as Jason Voorhees (Derek Mears). Meanwhile Whitney's brother Clay (Jared Padalecki) shows up looking for her, after she goes missing

"Friday the 13th" remake is directed by Marcus Nispell, based on a screenplay by Damian Shannon and Mark Swift. The film stars Jared Padalecki, Amanda Righetti, Danielle Panabaker, Travis van Winkle, Aaron Yoo, Jonathan Sadowski, Willa Ford, Derek Mears and Arlen Escarpeta. "Friday the 13th" is currently set to open on Friday, February 13th, 2009.
Scan from the Feb 09 issue of SCIFI Magazine