Movie Photos
First GANGSTER SQUAD Set Photos – Ryan Gosling and Josh Brolin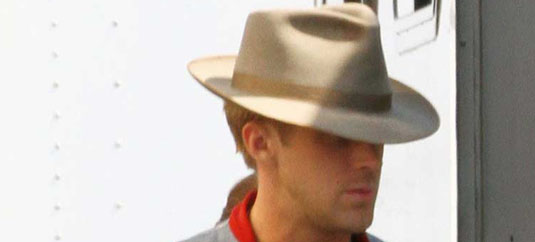 We finally have the first set photos from Ruben Fleischer's upcoming Gangster Squad crime drama! And I have two questions. First, what do you think about Ryan Gosling's new 1940's style? And, second, does anyone know how tall is Josh Brolin? Or, how short is he? LOL, nothing better than some crazy suit combination in the early afternoon. Or morning? See, I'm confused already. So, Gangster Squad is currently in production in L.A. And it looks they're having some fun out there. Well, actually, Gosling always looks like that, even when he's forced to wear red-gray combination, and as for Brolin, he looks like he desperately needs a donut.
Never mind. Enjoy the photos and check out the official synopsis once again! "Los Angeles, 1949. Ruthless, Brooklyn-born mob king Mickey Cohen (Sean Penn) runs the show in this town, reaping the ill-gotten gains from the drugs, the guns, the prostitutes and – if he has his way – every wire bet placed west of Chicago. And he does it all with the protection of not only his own paid goons, but also the police and the politicians who are under his control.
It's enough to intimidate even the bravest, street-hardened cop…except, perhaps, for the small, secret crew of LAPD outsiders led by Sgt. John O'Mara (Josh Brolin) and Jerry Wooters (Ryan Gosling), who come together to try to tear Cohen's world apart." And, at the end, let me also mention that the rest of the Gangster Squad cast includes Emma Stone, Michael Pena, Nick Nolte, Anthony Mackie, Mireille Enos, Holt McCallany, Robert Patrick and Giovanni Ribisi.