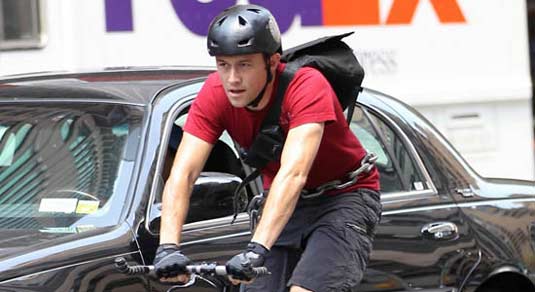 Have you noticed that every single day we have reports with Joseph Gordon-Levitt's name in it? Don't get me wrong, I definitely think he deserves our full attention, so let's move on with Gordon-Levitt's upcoming projects.
One of the movies we're interested in, is David Koepp's action/thriller Premium Rush which will hit the theaters on January 13, 2012. And we're here today to present you the first trailer for the whole thing. What can I tell you – enjoy it!
Just like they say – when everything is riding on you, anything can happen.
I'm not exactly the fan of bikes, but I do admit this looks fantastic. Life and death situations – that's what makes this trailer so exciting, and of course, great Joseph Gordon-Levitt, as well as the rest of the cast which also includes Jamie Chung, Dania Ramirez and Michael Shannon.
Premium Rush is a story that goes like this: "A New York bike messenger is given an envelope by a young woman at an uptown Manhattan college and is told he has 90 minutes to deliver it to an address in Chinatown. Complications ensue when an undercover police office appears and demands the envelope on special grounds.
The truth, hidden motivations, and the life-and-death stakes on all sides are revealed through a series of flashbacks as the cop and the messenger engage in a length-of-Manhattan chase, racing against time after the messenger discovers the precious nature of the envelope's slender contents."
Any thoughts?
Premium Rush Trailer