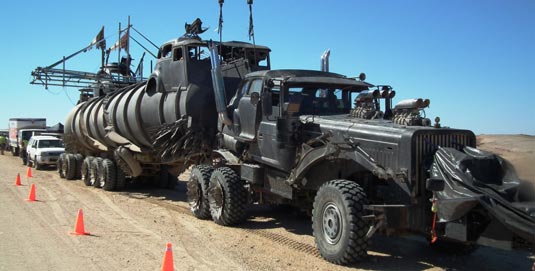 Will Tom Hardy be able to fill the sandy boots of former Mad Max Mel Gibson? The very first image as Hardy in his Mad Max: Fury Road costume has surfaced up on Twitter, showing off a decidedly less 80s leather-clad warrior. It should definitely be interesting to see what else comes from this highly-anticipated, long-gestated sequel. Have a look and judge for yourself:
Here's the mad (pardon the pun) synopsis:
"Mad Max is caught up with a group of people fleeing across the Wasteland in a War Rig driven by the Imperator Furiosa. This movie is an account of the Road War which follows. It is based on the Word Burgers of the History Men and eyewitness accounts of those who survived."
Directed by George MIller, Mad Max: Fury Road hits the theaters in 2013, and it also stars Charlize Theron, Nicholas Hoult, Rosie Huntington-Whiteley and others.