Movie News
First Look at Will Ferrell and Zach Galifianakis in THE CAMPAIGN; New Plot Details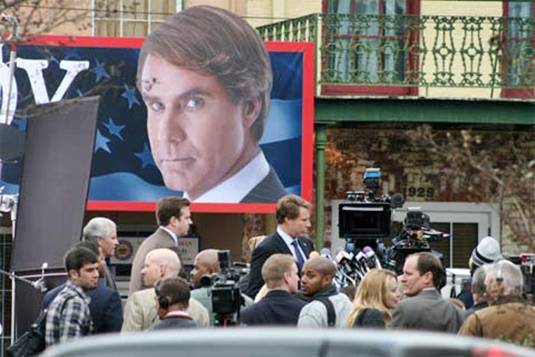 Flamboyant funnyman Will Ferrell, known for his impression of former President George W. Bush, paired up with  soft-spoken fellow Zach Galifianakis, butting heads for votes in the new political comedy The Campaign (formerly known as Dog Fight). We have the first official image from the Jay Roach (Meet The Parents) film courtesy of EW, which features Ferrell and Galifianakis' characters as two rival North Carolina politicians with presidential aspirations posing for a photograph. Brady (Ferrell), the incumbent congressman gets involved in a sex scandal, allowing an underdog, Higgins (Galifianakis) to challenge him for his seat in Congress. Ferrell told EW in a funny way:
I have a bit of an ethical slip. I leave a highly sexual message on a very Christian family's answering machine thinking I'm calling my mistress.
Ferrell also said earlier the storyline isn't actually that far-fetched:
The movie is just a platform for us to illustrate how insane our political process has become. The crazy ad campaigns that exist now and the manipulations. We're going to make it pretty farcical, but not really that far from the truth.
The political satire, The Campaign co-starring Jason Sudeikis, Dylan McDermott, Brian Cox, John Lithgow and Dan Aykroyd. The film is due in theaters August 10th, 2012 to poke fun at the candidates for the 2012 Presidential election.