Movie Photos
First Look: Warner Bros. SEVENTH SON Featuring Bridges, Barnes and Moore
Young adult fiction is booming right now and the fever for young adult movies is so hot among Hollywood executives. One of the upcoming films in the vein of a fast-growing YA fiction genre is The Seventh Son fantasy adventure, which is directed by Sergei Bodrov and based on Joseph Delaney's 'The Spook's Apprentice' novel. Well, Warner Bros. has released the first images featuring Jeff Bridges, Ben Barnes and Julianne Moore. Wearing medieval costume the Oscar-winning actor plays an aging knight, Master John Gregory who trains a youngster Tom (Barnes) to help him keep evil at bay and their fight to defeat the evil witch, Mother Malkin (Moore) and her followers. Bridges recently explained his warrior character:
He's an interesting cat. He's appreciated for keeping evil away, but he's also a frightening figure to the townspeople. When you mess around with darkness, some of that gets in you, too.
The cast also includes Olivia Williams, Djimon Hounsou, Kit Harington, Antje Traue, and Alicia Vikander, respectively. The Seventh Son opens in 3D, 2D and IMAX 3D theaters October 18, 2013.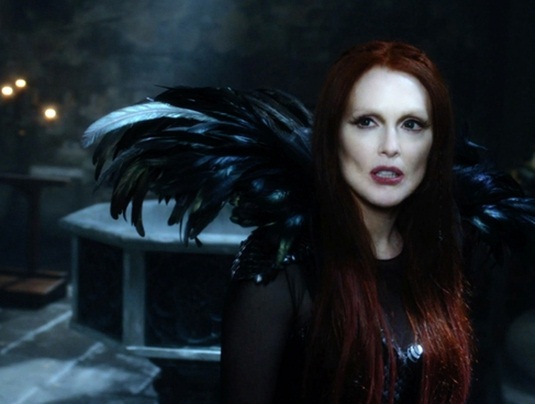 Here's the official synopsis:
In a time long past, an evil is about to be unleashed that will reignite the war between the forces of the supernatural and humankind once more. Master Gregory (Jeff Bridges) is a knight who had imprisoned the malevolently powerful witch, Mother Malkin (Julianne Moore), centuries ago. But now she has escaped and is seeking vengeance. Summoning her followers of every incarnation, Mother Malkin is preparing to unleash her terrible wrath on an unsuspecting world. Only one thing stands in her way: Master Gregory. In a deadly reunion, Gregory comes face to face with the evil he always feared would someday return. Now he has only until the next full moon to do what usually takes years: train his new apprentice, Tom Ward (Ben Barnes) to fight a dark magic unlike any other. Man's only hope lies in the seventh son of a seventh son.
Source: USA Today