Movie Photos
First Official Image from Steven Soderbergh's MAGIC MIKE

Oscar winner Steven Soderbergh has already released his first thriller, the biological killer film Contagion and has his first martial arts dynamic action-thriller Haywire arriving next month. Erin Brockovich's director is currently shooting Magic Mike, a stripper dramedy inspired by Channing Tatum real-life experience that will hit theaters this summer.
Warner Bros. has delivered the first official image from the set of Magic Mike, the coming-of-age drama also starring (also perpetually-shirtless) Matthew McConaughey along with Alex Pettyfer, Matt Bomer, Joe Mangianello, Olivia Munn, Riley Keough, Cody Horn, and Adam Rodriguez.
Soderbergh said about the project:
When Channing talked to me about this, I thought it was one of the best ideas I'd ever heard for a movie. I said I wanted in immediately. It's sexy, funny and shocking. We're using Saturday Night Fever as our model, so hopefully we're on the right track.
The story follows a young male stripper Adam played by Alex Pettyfer who is taken under the wing by his older colleagues as he rises in the business. The most homo-erotic movie since Warrior, Mike will also star Joe Manganiello (True Blood) as Big Dick Richie and Matthew McConaughey as the vet Dallas and Tatum is Mike Martingano.
Magic Mike opens July 29th with G.I. Joe: Retaliation opening the same day that means Tatum is going to be fighting Cobra for Paramount and stripping for Warner Bros. Why not?
So, here's the first image from the movie: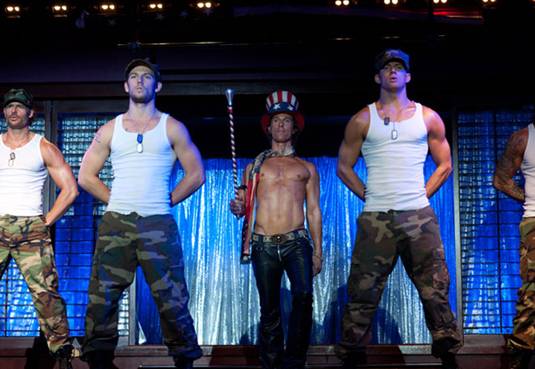 MagicMike – First Look
Source: Collider