Movie Photos
First Official SKYFALL Image Features Daniel Craig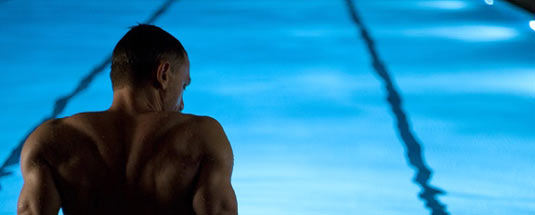 In case you haven't heard the news – the first official photo from the upcoming Skyfall movie features half-naked Daniel Craig at the swimming pool. Which is good thing I guess, but still, we're little confused by official word meaning these days.
One thing is sure – our Bond never looked better! Check out!
Should I repeat that this time Bond's loyalty to M is tested as her past comes back to haunt her? Looking at this fresh wet photo I wish I was the one to test Bond's loyalty, but hey, let's not forget the second part of the plot that goes like this – as MI6 comes under attack, 007 must track down and destroy the threat, no matter how personal the cost.
Which actually means – Bond has the whole right in the world to relax next to the swimming pool!
The rest of the Skyfall cast includes Javier Bardem, Dame Judi Dench, Naomie Harris, Berenice Marlohe, Ralph Fiennes, Albert Finney, Ben Whishaw, Helen McCrory and Ola Rapace and don't forget – the Sam Mendes directed movie opens on November 9th, 2012!