Movie News
Ridley and Tony Scott Team Up For KILLING LINCOLN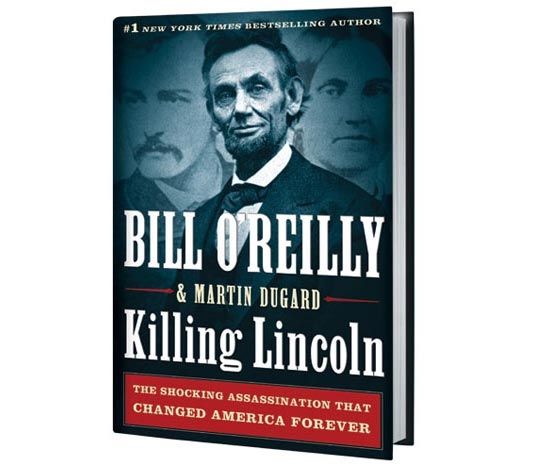 National Geographic Channel President Howard T. Owens announced today that the network has partnered with Tony and Ridley Scott to produce the two-hour documentary of
Killing Lincoln
: The Shocking Assassination that Changed America Forever, Bill O'Reilly's New York Times best-selling book with co-author Martin Dugard. Media personality Mike Rowe is also on board to be part of the project.
"National Geographic has a great legacy of telling some of history's most riveting stories," said author Bill O'Reilly, who will also serve as an executive producer on the documentary. "The assassination of President Abraham Lincoln is no exception, as it continues to be one of the most significant, life-changing events in America's young history. Ridley and Tony Scott are incredible directors, producers and amazing storytellers with the ability to bring this story to life in a way no one else can."
The two-hour special event will capture the riveting narrative style and intimate detail used by O'Reilly in the book, which has reinvigorated the story of Lincoln, engrossing readers around the world. Production on the historical thriller will begin this spring, combining rare historical archives, emotionally engaging storytelling and feature-film quality re-enactments with CGI in the signature style of the Scott brothers. The special will premiere in early 2013 globally on the National Geographic Channel.
"National Geographic Channel is the perfect partner for us to bring Bill O'Reilly's dynamic 'Killing Lincoln' to the screen. We are excited to share with audiences this epic and thrilling story surrounding Lincoln's assassination, one of the most notorious crimes in American history,"
said Ridley Scott. Said Rowe,
"As a closet history buff for most of my life, this is what you might call a 'dream project.' It's an honor to participate, and I'm grateful to National Geographic and the Scott brothers for the opportunity."
Additional details about his participation will be announced at a later date.
"There is so much to this story that Bill O'Reilly captures in his book that I know will captivate our audience,"
said Owens.
"Using contemporary storytelling methods that are the hallmark of what the Scott brothers are known for will transform this popular best-seller into a global television event for our network."
About Killing Lincoln:
Killing Lincoln is the first work of history from best-selling author and television news anchor Bill O'Reilly. The narrative recounts one of the most dramatic stories in American history — how one gunshot changed the country forever. In the spring of 1865, the bloody saga of America's Civil War finally comes to an end after a series of increasingly harrowing battles. President Abraham Lincoln's generous terms for Robert E. Lee's surrender are devised to fulfill Lincoln's dream of healing a divided nation, with the former Confederates allowed to reintegrate into American society. But one man and his band of murderous accomplices, perhaps reaching into the highest ranks of the U.S. government, are not appeased. In the midst of the patriotic celebrations in Washington, D.C., John Wilkes Booth — charismatic ladies' man and impenitent racist — murders Abraham Lincoln at Ford's Theatre. A furious manhunt ensues and Booth immediately becomes the country's most wanted fugitive. Lafayette C. Baker, a smart but shifty New York detective and former Union spy, unravels the string of clues leading to Booth, while federal forces track his accomplices. The thrilling chase ends in a fiery shoot-out and a series of court-ordered executions — including that of the first woman ever executed by the U.S. government, Mary Surratt.